New Mercedes S-Class
Our image shows how the new S-Class could look, plus we have full details on its hi-tech revolution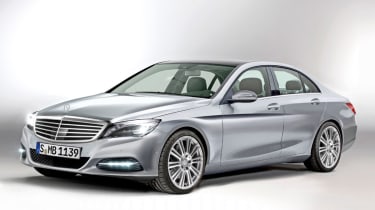 We've seen the next S-Class testing everywhere from Dubai to Death Valley and from Northern Scandinavia to the Nurburgring as Mercedes hones what will be the most hi-tech car ever built.
And now our exclusive image shows how the new Mercedes flagship will look when it debuts at April's Shanghai Motor show – and it's out with the current car's flared wheelarches and angular lights, and in with creased body panels.
The styling was previewed by the Aesthetics S sculpture at the recent Paris Motor Show, and is more subtle and handsome to appeal as much to new buyers in China as traditional S-Class customers in North America and Europe.
The new S-Class's multi-LED headlamps will feature cornering lights and automatically adjust the beam to all light conditions, while a clever new 6D-Vision system will detect pedestrians about to step out from behind parked cars. At the rear, as well as LED tail-lamps and an oversized high-level rear brake light, the new car will have a bootlid that opens automatically when you wave your foot under the rear bumper.
Engines will range in size from four to 12 cylinders, with a plug-in hybrid also expected, while the interiors will be among the most luxurious in the business. Features will include a COMAND online screen that accesses features like Google Street View, noise-cancelling speakers to boost refinement, and a hi-tech sound system, plus the car will be able to act as a WiFi hotspot.
The new Mercedes should ride brilliantly, too, thanks to its MAGIC RIDE CONTROL system, which scans the road ahead of each wheel and primes the dampers accordingly. Plus, not only will the new S-Class be able to park itself, it will also feature an autonomous driving system – enabling the car to drive itself through traffic at speeds of up to 25mph.
The new car has some big boots to fill, though. Not only does it have to take on the BMW 7 Series, Audi A8 and Jaguar XJ, it also has to plug the gap left by the demise of Mercedes' Rolls-Royce-rivalling Maybach brand.
So as well as the regular S-Class saloon seen here, there'll be long and extra-long-wheelbase cars. A six-door Pullman limo is likely, too. The CL is reborn as the S-Class Coupe and Cabrio, and Mercedes may add a four-door coupe big brother to the CLS.
Top five S-Class tech innovations
Airbags - The S-Class was the first car to feature a driver airbag in 1981, alongside pre-tensioning seatbelts. Passenger airbag followed seven years later.
ESP - Developed by Bosch, the Electronic Stability Control system now used by almost every car on the road was seen first on the big Merc in 1995.
ABS - The first anti-lock braking system featured on the S-Class in 1978. It was added to the W116 generation, which had been on sale since 1972.
Climate control - Automatic air-con seems like a fairly new car option, but it was actually available on the S-Class way back in 1977.
Pre-safe - Introduced in 2002, this system senses an accident and then closes all windows, tensions the seatbelts and prepares the airbags.