Brabus Mercedes Sprinter is the world's poshest van
Brabus unveils its new Mercedes Sprinter-based Business Lounge passenger 'van' at the Moscow Motor Show
Take one Mercedes Sprinter, leave it with tuning house Brabus, and this is what you get: the Brabus Business Lounge.
Revealed at the Moscow Motor Show and based on the long wheelbase, high roof Sprinter, from the outside it still looks every inch a van, aside from the 18-inch Monoblock wheels, LED daytime running lights, two new exhausts and a redesigned front bumper. Brabus has really worked its magic inside though, adding four leather-trimmed business seats in a face-to-face arrangement, each of which will recline flat should passengers feel the need to catch up on some sleep.
These seats also feature lumbar support, a massage function, heating, ventilation, and are electrically adjustable, with three-position memory function. For extra flexibility, two removable seats can be fitted in the luggage bay, turning the Business Lounge into an eight-seater.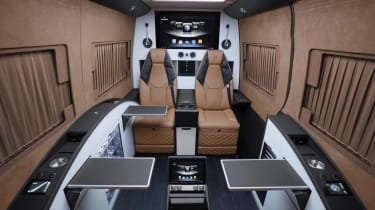 Brabus hasn't stopped there, either, adding three power-retractable tables to the cabin, as well as climate control, a fridge and coffee machine. There are six dimmable reading lights, too, plus an integrated LED ceiling display that can project up to 12 animations, such as a starry night sky or a fireworks display.
For a more connected entertainment experience, passengers can plug any tablet into the Business Lounge's on-board media system, and there's mobile high-speed internet access, plus a hard drive, Blu-ray player and Playstation 4 console. If that weren't enough, live HDTV is available via DVB-T or Apple TV, transmitted to a 42-inch full HD LCD screen located behind the driver's cab.
Miracast allows smartphone content mirroring onto this display, or a smaller 10-inch screen for the rear facing seats, with sound coming from a 1,200W Dolby surround sound system. Helping minimise the number of switches needed to control all of the above, each seat gets a five-inch touchscreen display that manages various in-car functions.
There's no word from Brabus on price, and each Business Lounge model is built to order.