Time-lapse vid: Mercedes Viano gets extreme makeover
In this unique time-lapse video the Mercedes Viano is transformed into a luxury vehicle
This unique time-lapse video shows the step-by-step process in which a Mercedes Viano van was transformed into the ultimate luxury vehicle.
Carisma Auto Design, a leading specialist in bespoke vehicle customisation, has transformed this Mecedes Viano van into a luxurious, hi-tech, ultra-comfortable vehicle.
• New Mercedes V-Class revealed 
The customisation includes a wide-screen TV, built-in iPad, on-board computers, Wi-Fi, Bluetooth as well as a Bang & Olufsen stereo system.
The modified Mercedes Viano van also boasts blacked out windows, cushioned ceilings and seats, foldaway tables, and more.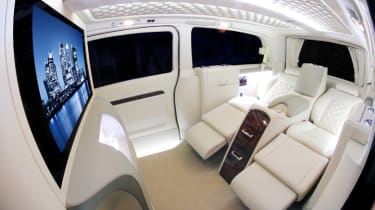 Clive Drake, Sales and Marketing Director at Carisma Auto Design, said: "The Mercedes-Benz Viano conversion is our flagship model, as it is the ultimate in discreet luxury travel.
"Many of our clients are high-profile heads of states, celebrities or important business people, it is therefore not always possible for them to travel around in a conspicuous luxury limousine, however they still want the luxury and comfort that is provided by such a vehicle, this is where the Viano from Carisma comes in."
If you like the look of this, check out this modified Land Rover Defender.