Prime Minister to confirm plans for electric car chargers in every new home built in UK
England will be the first country in the world to introduce mandatory electric car charging points for new-build homes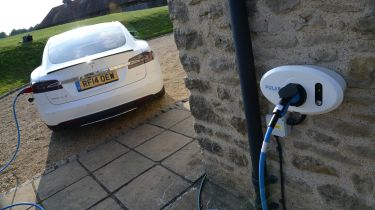 The Prime Minister is set to confirm ambitious plans for all new homes in England being required to be fitted with charge points for electric cars, as the Government seeks to facilitate the infrastructure improvements necessary for the planned mass-adoption of EVs.
The Department for Transport announced a public consultation on the subject last summer, which has now concluded with the Government confirming it will seek to pass legislation in parliament later this year. Boris Johnson will make the announcement himself at the Confederation of British Industry's annual conference. The changes will force homebuilders to install charge points so potential owners can easily charge their plug-in hybrids and electric cars at home. The move will also mean buyers of new-build homes won't have to make use of the Government's home charger subsidy scheme. 
The rules don't affect new-build houses without off-street parking, but the Government is also investing heavily in research projects that have included wireless charge points, and charge points that rise up from the pavement.
The drive towards EVs comes as the UK Government aims to meet stringent targets for air quality and pollution caused by internal combustion engine emissions. From 2030, the £1.5 billion Road to Zero strategy will see the sale of all new cars without electrification banned. 
Details of this remain thin on the ground, but it is understood new cars will have to be able to travel for 50 miles under battery power in order to be allowed to remain on sale, essentially removing all cars but pure electric cars, plug-in hybrids, and hydrogen cars from new-car showrooms.
The new rules set to come before parliament later this year will require all-new EV chargers to be the 'smart' charging variety, which makes best use of peak and off-peak electricity rates and could see EV's act as a hive-like network of power storage when large amounts of electricity are generated by wind turbines, for example.
As well as Road to Zero, the Government has also announced the UK is to be carbon neutral by 2050. With transport accounting for around a quarter of all greenhouse gas emissions, improving and reducing emissions from cars is a key target on the path to achieving this ambition.
Announcing the plans to mandate charge points in new-build homes, Transport Secretary Chris Grayling said: "Home charging provides the most convenient and low-cost option for consumers – you can simply plug your car in to charge overnight as you would a mobile phone."
Do you think installing new homes with their own charging points is a good idea? Let us know your thoughts in the comments below...