Qooder aims for spirit of BMW C1 with all-electric four-wheel scooter
Innovative roof coming for 95-mile range, £15k urban runaround from Swiss firm Qooder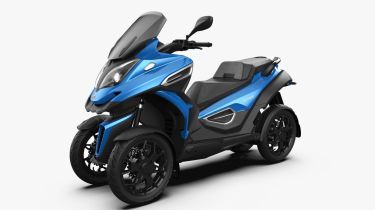 Swiss vehicle maker Qooder, which had planned to use its home motor show in Geneva to launch its all-electric eQooder four-wheel scooter, has revealed that it plans to build a version with a roof, evoking memories of the BMW C1 from the early 2000s.
The new vehicle offers a range of 95 miles from its 10.8 kWh lithium-ion batteries, with a top speed of 81mph. It should go on sale in the UK later this year with a price of around £15,000 assuming government plug-in grants remain. 
Although Qooder hasn't yet published a 0-62mph time for the 60bhp scooter, Paolo Gagliardo, CEO of the Swiss company, promises stunning acceleration. "It'll have a similar power-to-weight ratio as an Abarth 595,", he told us - and he should know, he's the former COO of the Italian brand.
Gagliardo also revealed that the e Qooder would eventually be available with a roof, like the iconic BMW C1. "We are working on a roof," he confirmed. "We need to get it right and need to strike the precise point to provide weather protection and increase the sense of cocooning without compromising agility."
Unlike two- or three-wheel scooters, the four-wheel eQooder uses a quadrilateral chassis with independent suspension on all four wheels and an innovative electronic hydraulic tilting system that allows the four wheeled scooter to lean like a motorbike. According to Gagliardo it gives the eQooder the agility of a GT Scooter, but with the handling, performance feel and safety of four wheels.
Both rear wheels are powered, while there's also a mechanical differential at the back. Quooder also claims 50/50 weight distribution front to rear and side to side.
Gagliardo joined Qooder in 2017 when the company was known as Quadro Vehicles and, according to Gagliardo, was "losing lots of money - it was relaunch or close." The company rebranded as Qooder and presented a turnaround plan to the board, which included putting a team together from automotive and motorcycle companies.
"We've created a new category of product," Gagliardo told us. "It's nothing like a scooter with three wheels. We've changed from a motorcycle approach to a mobility approach."
Gagliardo also claimed that the eQooder offers distinct advantages to electric quadricycles like the Renault Twizy or recently launched Citroen Ami. "These cars don't solve the mobility problem," he said. "They still create congestion. Our car solves the congestion problem with agility and fun."
Would you ever buy a tiny city runaround like the Qooder? Let us know in the comments below...