Gordon Murray Design unveils MOTIV electric quadricycle concept
The MOTIV quadricycle is the latest product of Gordon Murray's innovative iStream manufacturing process, which majors on low mass and sustainability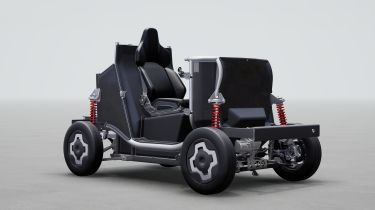 Gordon Murray Design has revealed its latest mobility solution. Spawned from the innovative iStream manufacturing process, it's called the MOTIV, and the new vehicle is an electric quadricycle. 
Weighing less than 400kg, the MOTIV is classed as a quadricycle by law, but Gordon Murray Design has built the vehicle to comply with the more stringent crash regulations of full-size passenger cars. This is made possible by iStream, a sustainable manufacturing process that cuts the number of components used to build each vehicle and reduces weight. 
Fewer components, and the use of recycled fibre composite panels, also contribute to a lower 'cradle-to-grave' CO2 footprint for iStream vehicles. However, the final construction is also more rigid, improving safety and driving dynamics. For a traditional family car, iStream reduces body panel components by 50%, and overall weight by 20%.
The MOTIV is designed to showcase the flexibility of iStream. The process can be applied to a range of vehicles, from commercial vehicles to supercars, and now quadricycles, as the MOTIV demonstrates. It's especially useful for electric vehicles, where weight is the enemy of driving range. The lightweight construction allows the MOTIV to house a battery pack that is twice as large as equivalent products, while maintaining an acceptable overall weight. 
The quadricycle is also fitted with numerous convenience and safety features that are usually the reserve of conventional cars, such as anti-lock brakes and climate control. Gordon Murray Design has also installed a large infotainment display and powered scissor doors. 
The MOTIV debuted at the LCV Cenex exhibition at Millbrook proving ground, alongside an innovative electric quadricycle rolling chassis. Called the iStream eQuadricycle platform, it weighs less than 400kg and is just 2.5 metres in length, with a projected range of 140 miles. The eQuadricycle's battery can be charged from 10-80 per cent in 40 minutes. 
iStream's efficiency, weight and rigidity benefits have also caught the attention of aviation companies, for the production of electric cargo drones and light aircraft. Speaking on the growing collection of iStream-derived vehicles, Jean Philippe Launberg, Gordon Murray Design's business director, said: 
"iStream's expanded portfolio means that it is now the answer to many questions for many mobility companies. Not least how do you keep the weight of an electric vehicle to a minimum? Our innovative manufacturing processes delivers many benefits for automotive manufacturers wanting to create, develop and make low to mid-volume cars and commercial vehicles that can't be profitably manufactured with their existing methodologies and footprint. It's a unique and cost-effective way for global manufacturers to improve performance and efficiency in a sustainable way."
Check out the latest on Britain's new cheapest car - the Citroen Ami...