New Jannarelly Design-2 GT coupe is firm's second vehicle
Announcement of new Jannarelly Design-2 GT made alongside a new partnership with the small-scale Italian brand, Manifattura Automobili Torino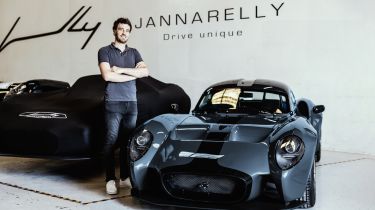 Jannarelly, the start-up car brand responsible for the retro-styled Design-1 sports car, has confirmed it will soon launch its second vehicle. It'll be called, rather unsurprisingly, the Design-2 GT, and the firm says it'll target the rapidly expanding restomod market.
Jannarelly hasn't released many details about it, but the company's "restomod" brief means it'll be competing with everything from the GTO Engineering Squalo to the 400bhp "Unleashed" Jaguar E-Type. 
The shape of the covered car in the company's teaser image suggests the Design-2 will be a front-engined, rear-driven sports coupe. The GT tagline also suggests it'll be more softly sprung and long-legged than the Design-1, which was primarily designed for thrashing around racing circuits.
As part of this announcement, Jannarelly also confirmed that it has partnered with the small-scale Italian car brand, Manifattura Automobili Torino. The company has previously provided engineering assistance for the Aspark Owl EV, the Apollo Intensa Emozione hypercar and the Ferrari F430-based reimagining of the Lancia Stratos
The two companies will work together to design the Design-2 GT Coupe, while also developing future-proofing electrification technologies for both brands. Jannarelly will also shift production of the Design-1 from Dubai to MAT's facility in Turin.
Paolo Garella, MAT's founder and CEO, said: "We were deeply impressed by the Jannarelly team and their wonderful Design-1 roadster. At a time when sports cars are becoming increasingly reliant on computers, sensors and software, we as enthusiasts fully appreciate the back-to-basics approach that Jannarelly took to build a pure driver's car. 
"We look forward to starting production of Jannarelly's Design-1 and are very excited to be developing new products with them, such as their GT coupe, the Design-2."
Jannarelly's CEO, Alexander Lee, added: "We are truly honoured to be entering into this strategic partnership with MAT. We cannot think of a better partner than Paolo and his incredibly experienced team to help us develop and build our cars."
Check out the latest on Noble's new M500 supercar...