'Drivers want a way of bypassing nannying safety kit'
Deputy editor John McIlroy wonders if safety legislators are pushing the limits of what car buyers are willing to accept too far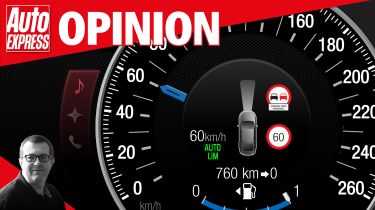 Read the technical specs on the latest Mercedes E-Class and you can't help but be impressed at what a mid-size saloon can do these days – and understand the claim that its systems contain more lines of computer code than a commercial airliner.
But what do you think the most important feature might be? Smart cruise control so the car can overtake by itself on motorways? The ability to conduct Zoom meetings, four up, from the cabin?
Markus Schäfer should know. He's Merc's chief technical officer, so the person who signs off the development of these systems – and who oversees the 3,000-strong workforce responsible for the E-Class's infotainment alone. He took us for a spin in the car last week, and was quick to highlight how direct customer feedback had forced Merc's hand on one key feature: namely, there are several different ways of deactivating the speed-limit warning chime.
Yes, what customers really want is a way of bypassing the legally required tech that bings and bongs every time you hit an indicated 31mph in built-up areas, or 71mph on a motorway. To turn it off in the Merc, you can press an on-screen button on the main display, hold down the volume-down button on the steering wheel, or resort to voice command. "We've programmed 'Hey Mercedes' to respond to lots of different phrases about it," Schäfer promised, opening up the possibility of telling your E 220 to "turn off that speed-limit thingamajig".
On a more serious note, though, the ability to silence the warnings (for the current journey, at least) shows how legislators are pushing the limits of what car buyers are willing to accept, and how car brands are having to react. We all want to be safe in our vehicles, and to get where we need to be sensibly and legally, and who doesn't use the built-in speed limiter from time to time? But at what point does the guidance become interference?
Do you agree with John? Let us know in the comments section...