'MP Greg Smith is fighting for motorists instead of against them'
Editor-in-chief Steve Fowler has met many politicians throughout his career, but MP Greg Smith is a little bit different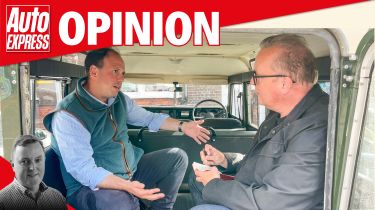 I've met many politicians over the years, including a few Prime Ministers. I thought Gordon Brown was professionally pleasant, David Cameron just seemed to speak in sound bites and Boris Johnson, well…
What I've never done before is interview an MP while sitting in the back of an old Land Rover. That's exactly what I did with Buckingham MP Greg Smith.
Smith is on his 'Landy Tour', using the Defender to travel around his rural constituency to talk to locals. So it was a great opportunity to discuss the important motoring topics that matter most to you with a man who has a real opportunity to influence policy.
I knew Smith was a car fan, but you know what MPs are like. I was fully expecting him to toe the party line and swerve difficult questions. That wasn't the case.
Smith is clear on his job. "Yes, I'm a Conservative MP," he said. "But I'm a back-bench champion – I'm not a minister. I don't have collective responsibility, and it's as much my job to speak up for my constituents and to scrutinise the Government and to challenge the Government as it is for me to walk through – most of the time – the Government lobby in the House of Commons."
Smith's views on pushing back the 2030 switch to EVs are at odds with current policy, while his thoughts on taxation are equally strident. "We pay a massive amount of tax to earn the money to buy our cars, and then a massive amount of tax to buy or lease our cars. Then every time we want to put it on the road once a year, a whopping great bill for Vehicle Excise Duty. And then you get walloped at the fuel pump. I think we do need to acknowledge how badly the motorist is taxed."
If road pricing comes in, Smith favours a smart in-car device over a black box or cameras, but is clear any new system of taxation has to be "open, transparent and fair." Smith seems to have what's classed as a 'safe seat'. Let's hope he stays in Parliament to lobby hard on behalf of all of us.
Now read more about the 2030 petrol and diesel ban...