Peugeot 206 review (1998-2009)
Ageing French supermini is off the pace and due for replacement, but has enough charm to ensure it remains popular to the end.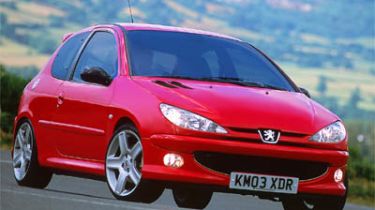 Driving: The 206 is a traditional French hatchback; lolloping suspension gives a laid-back ride and pointy, involving handling - but noise suppression isn't the greatest. Add in the 206's vocal engines and high-speed wind rush, and you've a noisy companion at speed. The steering is also a little loose and the tail will ease out if you're snappy with the throttle in the wet. At least relative light weight means 1.4-litre engines offer decent shove, while 1.6-litre Sport versions are great warm hatches. But to drive the 206, you must put up with an appalling driving position - cramped pedals and distant, angled steering wheel - while non-sport seats aren't brilliant either. Throw in a distinct lack of space, particularly in the rear, and you've a car that is certainly feeling its age. Even before you've considered the hard, scratchy dash plastics and evidence of rattles.
Marketplace: The 206 range has been slimmed with the arrival of the 207, but remains on sale as a 'budget' offering for those who find the 107 too compact. Urban, Verve and Sport trims have been honed to offer generous trim levels at sensible prices, though the engines that power them are ageing. You're best going for diesel - if you can afford it. The premium is rather high even for the 1.4-litre HDi. GTI models, meanwhile, are expensive compared to newer opposition, particularly the mad 180bhp version. As for bodystyles, three-and five-door models sit alongside SW 'estate' versions, while there may still be some of the groundbreaking CC coupe-cabriolet range left in the system.
Owning: 206s have long been massively popular with private buyers, keeping retained values high. This should continue as Peugeot cleverly manages the range now the 207 has arrived. Economy isn't bad for an 'oldie' (the newer 1.4-litre engine returns better mpg than the 1.1-litre) and long service intervals help keep annual costs down. But insurance ratings could be lower and mid-'90s design means it can't shrug off parking scrapes as cheaply as more modern designs.
Engines, performance and drive
0
MPG, CO2 and Running Costs
0
Interior, design and technology
0
Practicality, comfort and boot space
0