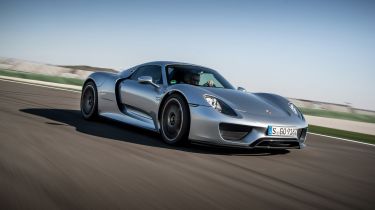 Our pick: 918Price: £640,141
Along with the forthcoming McLaren P1 and LaFerrari, the 918 is one of a trio of 21st century hypercars that push the boundaries of technology. Described by Porsche as "a car that takes the technical capabilities of hybrid to the limits of what's possible" the 918 represents the maximum of Porsche's knowhow.
Under the composite bodywork you'll find a stiff yet light carbonfibre tub, which the highly complex power sources are mounted around. The battery and fuel tank are sandwiched between the cabin and the V8 engine, which is packaged with the rear electric motor and PDK gearbox. A second electric motor feeds the front wheels and combined they deliver 875bhp and 1,280Nm of torque.
As a result, the raw numbers are staggering. In optional Weissach trim, which sheds 41kg from the 1,674kg kerbweight with titanium bolts and magnesium wheels, the 918 will hit 60mph in 2.5 seconds, reach 186mph in just under 20 seconds and it famously lapped the Nurburgring in under seven minutes. Yet at the same time, thanks to its ability to glide silently in EV mode, has CO2 emissions of 72g/km and fuel efficiency never seen before in a hypercar.