Austone Athena SP 7 review
Athena is the Greek goddess of practical reason, which dictates this tyre should be avoided regardless of the tempting price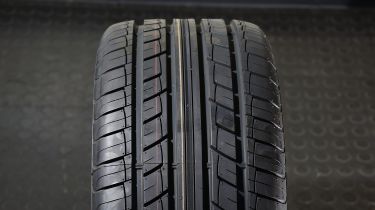 Cooper, now under the Goodyear umbrella, was once part of a Chinese joint venture that produced Austone tyres, but any influence it may have had on performance seems to have vanished since the deal was ended in 2014.
As always, it is in the wet that the biggest – and most worrying – performance gaps to the pacesetters are experienced, and the Austone was no exception. It was some eight seconds off the pace, which is significant on a sub-80-second lap. We had to work hard for that performance because the rear tyres would slide pretty much whenever the fronts found grip.
It made an exciting lap at the proving ground, but that's not what you want on a wet roundabout in rush hour. Slowing for that roundabout would be even worse because it required a staggering 18 metres more to stop from 50mph than the best. If the Austone was travelling behind our test winner in an emergency stop there'd be substantial shunt.
There was less of a difference in the dry, but the Austone was still a long way off the best in braking, where it required an extra five metres to stop. It was more stable around the handling track, but it needed more steering lock than most. It can't even claim good fuel economy, the usual benefit of poor wet grip.
Blackcircles.com says…
"At the time of writing, Blackcircles.com does not hold stock of this tyre, so we are unable to provide any insight into the tyre's popularity or performance with our customers."
Figures
| | | |
| --- | --- | --- |
| Austone Athena SP 7 | | |
| Overall: | 89.70% | |
| Price: | £74.40 | |
| Wet handling: | 89.80% | 7th |
| Wet braking: | 54.20% | 7th |
| Straight aquaplaning: | 91.30% | 7th |
| Curved aquaplaning: | 69.60% | 7th |
| Dry handling: | 96% | 7th |
| Dry braking: | 85.50% | 7th |
| Cabin noise: | 99.40% | =2nd |