Pirelli Cinturato P7 review
We've said it before and will again: Pirelli needs to look again at the P7 because it is currently no match for its premium rivals in this sector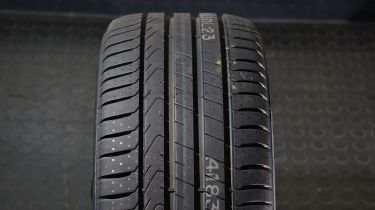 This is third year on the trot we have tested the P7 and it's still struggling in this company. It finished joint last on its debut, in 16-inch form, and last year in 17-inch guise it managed eighth (out of 10) but was well away from the leaders. It drops even further behind this time and you have to ask what has gone awry with this tyre from one of the premium manufacturers, which has done well with other designs.
From the first to the second test we saw an improvement in fuel economy and that has remained, with the P7 (the name has been around for years, but this is the latest C2 version) topping the results. It would be around six per cent better at the pumps than the overall but thirsty winner. It was also good in the cabin noise test, but these were rare highlights in a string of poor results that would see it last in half the tests, ignoring the budget Austone.
A real surprise was how far the Cinturato was off in wet braking, where it needed eight metres more to stop than the Potenza Sport and some 10 per cent behind the next best, the Falken. The rear tyres moved more than the rest of the top six on the handling track, but the progressive slide was easily controlled.
The rear was more stable in the dry but overall it felt soft, lacking sharpness.
Blackcircles.com says...
"The Cinturato is showing early signs of being a popular tyre, thanks to an overall rating of 4.6/5. Customers comment on the tyre's good grip and smooth performance."
Figures
| | | |
| --- | --- | --- |
| Pirelli Cinturato P7 | | |
| Overall: | 95.20% | |
| Price: | £105.82 | |
| Wet handling: | 94.70% | 6th |
| Wet braking: | 70.70% | 6th |
| Straight aquaplaning: | 93.00% | 5th |
| Curved aquaplaning: | 82.20% | 5th |
| Dry handling: | 96.90% | =5th |
| Dry braking: | 90.10% | 6th |
| Cabin noise: | 99.40% | =2nd |