Now you can get the Smart ForTwo and ForFour in Black and White
New Edition White and Edition Black special editions add extra kit to Smart's city car range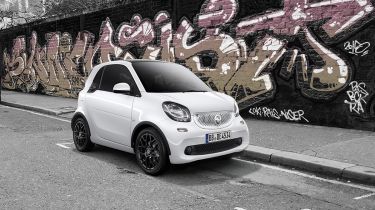 Two new special edition trim levels, Edition White and Edition Black, have been announced for the Smart ForTwo and ForFour city cars. Both specifications cost from £12,360 for the two-seater ForTwo and from £12,855 for the larger ForFour.
The new trims are based on the existing Prime model, and add equipment from the Urban Style and Premium packages, including a leather steering wheel, stainless steel pedals, 16-inch black alloy wheels, a chrome tailpipe, and wider wheel arches. The Black and White trims cost £895 more than an equivalent Prime car.
Other standard kit on both models includes sat-nav, a height adjustable steering wheel and driver's seat, heated electric door mirrors, parking sensors and tinted windows on the ForFour.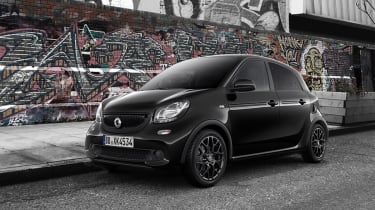 As you might expect, the Edition White models get a full white paint scheme and the Edition Black is fully black - although if you pay £100 you can get the L-shaped section of bodywork that is part of the car's strengthened construction painted white.
Engines and gearboxes remain the same: you can choose from a 70bhp 1.0-litre or a 900cc 89bhp petrol engine fitted with either a manual or dual-clutch automatic gearbox.
Are you a fan of the Smart ForTwo or ForFour? let us know why below...