Ssangyong Kyron (2006-2010) review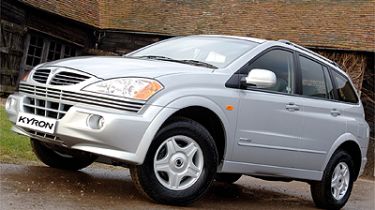 Ssangyong's best-selling model is certain to be noticed; no other vehicle looks like it. The front is bold but well-proportioned - it's the rear that stands out, looking as if it belongs to a completely different vehicle! But its high-rise, bulbous profile does at least realise a staggering 625-litre boot, though rear passenger legroom isn't as good as it could be. No problems for front-seat passengers, who sit atop high (but too-flat) chairs, facing a well-built, attractive dashboard. It's one that's well-equipped too, even in base S guise; the best-selling SE trim includes leather, climate control, CD autochanger, even ESP stability control!
Such electronic safety measures are welcome at first, as the Kyron has soft suspension that generates lots of lean in corners. But press on and you'll find it trustworthy, with pretty direct steering and decent levels of damping. Sadly, the ride doesn't bear similar scrutiny. It's poor, with the separate chassis creating shuddering motions, even at slower speeds. And while the 2.0-litre Mercedes-designed engine offers a healthy 141bhp, plus OK economy for one so large, its too loud under acceleration, while the weight of the Kyron blunts acceleration. It does, however, offer stacks of mid-range torque, and complements the Kyron's very able chassis when motoring off-road. Many models even have Land Rover-style Hill Descent Control, which works well. Such ability makes the Kyron a useful workhorse at a competitive price; just don't expect compact SUV refinement.
Engines, performance and drive
0
MPG, CO2 and Running Costs
0
Interior, design and technology
0
Practicality, comfort and boot space
0