Tesla Supercharger pilot scheme opens for other EVs in Holland
Non-Tesla EVs can now recharge at 10 Superchargers in the Netherlands, as the company tests the waters for global roll-out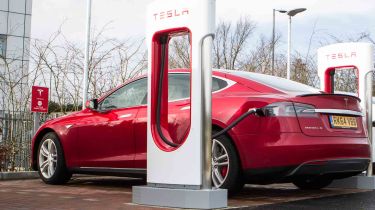 Tesla recently confirmed that it would open its Supercharger network to electric vehicles from other manufacturers – and the company has now taken the first tentative steps in realising this ambition with a new pilot scheme in the Netherlands.
Tesla has opened 10 Superchargers in Holland to non-Tesla drivers, who can charge their vehicles like they can at any other fast-charger, using the latest version of the Tesla app. 
The pilot is only open to vehicles that are compatible with CCS charging ports. There's no word yet on whether the pilot programme will be extended to the UK.
Tesla has also confirmed that non-Tesla drivers will be charged a slightly higher rate for charging their vehicles to offset the cost of outfitting the Superchargers with the necessary software to suit a broad range of electric vehicles. However, the company says this fee can be reduced by purchasing a charging membership.
Earlier this year, Tesla's CEO Elon Musk outlined his vision for the Supercharger roll-out, although he mentioned that drivers of cars with older and slower charging standards would also be liable to pay more for electricity at a Supercharger point.
"If the charge rate is super-slow then someone will be charged more," he said. "We'll also be smarter with how we charge for electricity at the Supercharger," suggesting prices may vary according to demand or the time of day.
Tesla is currently upgrading its Superchargers so they can supply 300kW of peak charging power.
Musk also offered a few words on the motive behind opening Tesla's Supercharger network to other electric vehicle brands, saying: "Our goal is to support the advent of sustainable energy. It's not to create a walled garden and bludgeon our competitors."
Until now, the Tesla Supercharger network has been reserved for Tesla cars only, with the company controlling access in its older vehicles by engineering its own charging connector. More recently, though, Tesla's cars shifted to conventional Type 2 and CCS charging sockets in Europe, with the firm restricting access to its Superchargers through a software limitation.
Using the current-generation 250kW DC Supercharger network, the new Tesla Model S Plaid can take on 200 miles of range in just 15 minutes. Similar charging speeds should be also achievable by other vehicles, providing their electrical systems can accept the power.
Currently, the Tesla Supercharger network comprises more than 25,000 stations worldwide, which would make life a little easier for EV drivers hunting for a charging socket.
However, even if the Tesla Supercharger network is opened to British EV drivers, given the size of the Supercharger network here currently, it won't be enough to satisfy demand once the sale of pure combustion vehicles is banned in 2030.
The SMMT estimates that 700 charge points would need to be installed daily between now and the end of the decade to properly support the market. Currently, the installation rate stands at around 42 chargers per day.
What do you make of Tesla's decision to open its charging network to other brands? Let us know in the comments below…