Toyota Yaris Hybrid
Toyota's smallest hybrid, the Yaris Hybrid supermini squares up against a host of diesel rivals.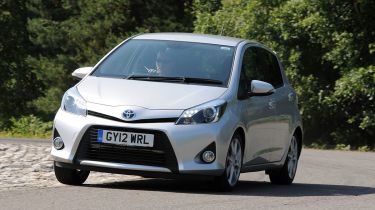 With CO2 emissions of 79g/km and economy of over 76mpg in the entry-level car, the Toyota Yaris Hybrid is nothing if not efficient.
The great figures are achieved by hooking up the 1.5-litre petrol engine to a compact electric motor. Together, they produce 98bhp and can launch the Yaris Hybrid from 0-62mph in 11.8 seconds.
Unfortunately, the CVT auto gearbox fitted as standard to the Yaris Hybrid makes progress feel slower and more difficult than it actually is. Floor the throttle, and there's a noisy whine that almost encourages you to step off the throttle. It hampers refinement at motorway speeds, too, as the revs constantly rise and fall as you try to maintain a steady speed.
Still, the soft suspension of the standard Yaris has been carried over almost entirely to the Hybrid model. It's more prone to crash over potholes, but on the whole it's very comfortable.
The handling is city-friendly, with light and accurate steering, but it doesn't feel as nimble as a Ford Fiesta. There's a little too much body roll and the steering feels short on feedback. The good news is that Toyota has freed up plenty of space by engineering the drivetrain to ensure the batteries fit under the rear seats, rather than in the boot floor. That means a 286-litre load area.