New 2025 Vauxhall Insignia to get radical SUV redesign
The Vauxhall Insignia is set to undergo a bold transformation, and our exclusive images preview how it could look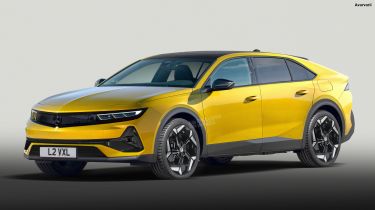 Last year the UK bade farewell to the Vauxhall Insignia. The once-popular family car suffered dwindling sales before being discontinued in the wake of the SUV boom and a much-heralded push towards electrification. But Auto Express has learned that Vauxhall is planning for the Insignia's return with a radical class-busting replacement by the middle of the decade.
As our exclusive images preview, the new model is likely to take the form of a high-riding, sleekly profiled crossover. Vauxhall Vice President of Design Mark Adams has revealed that in response to the SUV trend, the next Insignia will abandon the more traditional hatchback design.
Speaking exclusively to Auto Express, Adams said, "We're going to replace the Insignia with something, but it will categorically not be a saloon. Large saloons are a shrinking part of the market. For brands like Vauxhall that operate in the upper-mainstream sector, they don't work. We've been thinking about the right balance, and we believe that the car that does replace the Insignia needs to be really attractive and aspirational. It's about finding that new formula."
When pressed on market trends that will influence the new model, Adams admitted "the popularity of SUVs has been huge". He added that Vauxhall would be responding to this demand.
Even so, as the brand moves to a fully electric product line-up from 2028, the Insignia's replacement may not adopt a traditional SUV stance in a bid to mitigate the weight and efficiency penalties that they can often bring. These are key considerations that will influence the new model, according to Adams.
"We recognise that cars are getting taller and heavier, and that's not a good thing," he told us. "Customers like a higher seating position and a sense of protection, and the trick going forward is making those connections with the customer, but in a package that's more efficient."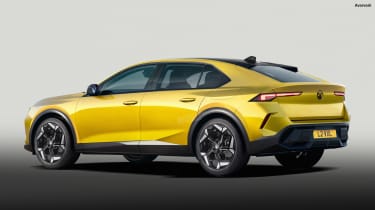 As such, the new Insignia could follow forms similar to those set out by fellow Stellantis brands Peugeot and Citroen with the 408 and C5 X respectively. Both cars adopt SUV-style cues in a sleeker, fastback bodystyle, although only one of them, the Citroen, has replaced a conventional model outright, given that Peugeot still sells the 508.
However, it's already known that Peugeot will take a more radical approach with its all-new e-3008 SUV that will be revealed later this year. That car will feature a raised-up, sleeker body to boost range and will be based on the forthcoming Stellantis STLA Medium platform. That same technology is likely to be employed for Vauxhall's Insignia replacement, which will be electric only.
Peugeot has already outlined that its e-3008 will offer up to 435 miles of range on a full charge, while it's known that the STLA Medium architecture can accept battery sizes ranging from 87 to 104kWh.
Given that the Insignia replacement should offer more space and practicality than the e-3008, it's likely to stretch its wheelbase when compared with the Peugeot. That, in turn, will allow engineers to install a larger battery to compensate for the car's size and deliver the level of range that customers will expect from a big family vehicle. Peugeot's larger e-5008 model will also be based on the STLA Medium platform, so it's likely that the replacement for the Insignia will be similar in size to this car.
Partnership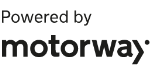 Need to sell your car?
Find your best offer from over 5,000+ dealers. It's that easy.
STLA Medium would offer an entry-level power figure of 201bhp, which should probably be enough, in conjunction with instant EV torque, to support a vehicle of the Insignia's size. The platform also supports dual-motor configurations with up to 443bhp, so there will be plenty of scope for Vauxhall to offer a performance-oriented GSe edition of the newcomer.
It's unknown if the Insignia name will be revived for the new car. Either way, don't expect it to be unveiled before 2024, with a debut around the middle of this decade most likely. That would allow the British brand's new family crossover to go on sale a few years before 2028, by which point Vauxhall is aiming to be all electric.
Vauxhall Insignia timeline
From the success of the Cavalier as part of Vauxhall's joint ventures with Opel, to the attempts at premium luxury for final Insignia, Vauxhall's family cars have had a rocky history.
Vauxhall Cavalier Mk1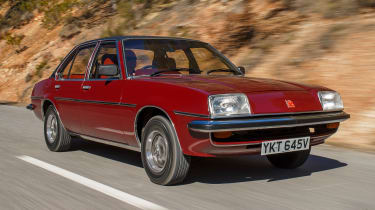 Vauxhall's first Cavalier was a smash hit. Based on the second-generation Opel Ascona, and available as a saloon or coupé, it scored well against the ageing Mk3 Ford Cortina, and demand outstripped supply in the early months.
Vauxhall Cavalier Mk2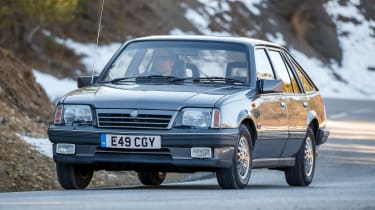 Switch from rear to front-wheel drive didn't dent the Cavalier's popularity. A five-door hatchback and an estate joined the saloon, while the SRi performance variant had up to 130bhp and a top speed of 120mph.
Vauxhall Cavalier Mk3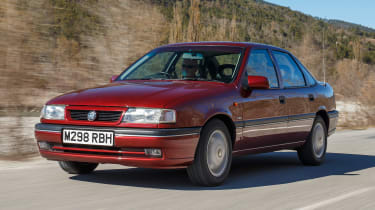 Two-door and estate models were binned, leaving only a five-door hatch and four-door saloon. This generation introduced ABS and airbags, plus a high-performance version with 200bhp and four-wheel drive.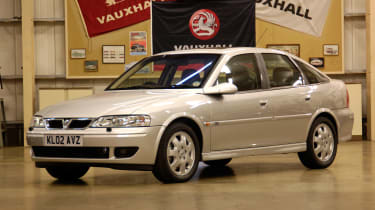 The Vectra name had been used by Opel since 1988, but Vauxhall didn't use it until the Cavalier's replacement in 1995. The range started with a modest 74bhp 1.6-litre petrol, but topped out with brawny V6. Estate model returned.
Vauxhall Vectra C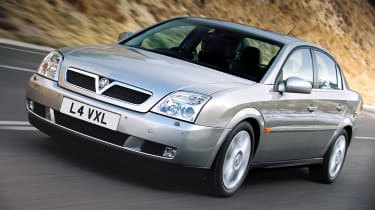 Based on General Motors' Epsilon platform, the Vectra C came as a saloon, hatch or estate. The line-up included the VXR with a top speed of nearly 155mph, and it also spawned the oddball Signum executive hatchback.
First Insignia made its debut at the 2008 British Motor Show. Hatchback and saloon forms remained, along with an estate that was the first to be called Sports Tourer, a name Vauxhall continues to use to this day.
Vauxhall Insignia Mk2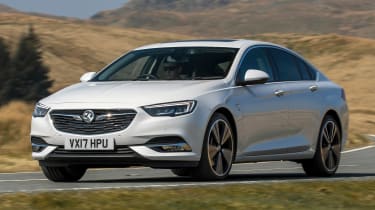 GM had promised a rethink on its family car, and the Mk2 took inspiration from the Opel Monza Concept. The saloon was dropped, leaving the hatch and estate, although the latter was also sold in jacked-up Country Tourer guise.
Click here for our list of the best company cars on sale right now...