Best Pick-up: Volkswagen Amarok
When the Amarok arrived last year, it redefined what buyers can expect from a hard-working and durable pick-up truck.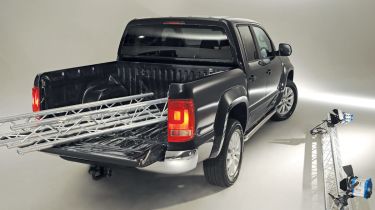 Why it won...
When the Amarok arrived last year, it redefined what buyers can expect from a hard-working and durable pick-up truck. By bringing the kind of cabin quality usually reserved for its passenger cars to a practical commercial vehicle, Volkswagen raised the bar in the sector.
High-quality fixtures and fittings only get you so far, but there's more to the Amarok than a glossy interior. Rugged styling will help wrestle sales away from conventional SUV rivals, and the rest of the package is full of neat and practical touches. These extend to the design of its load area, which is wide enough between the wheelarches to accommodate a standard 'Euro' pallet.
Power comes from a pair of gutsy diesel engines, with the entry-level 120bhp 2.0 TDI joined by a more desirable twin-turbo 160bhp BiTDI – there's even the option of selectable or permanent four-wheel drive. And underlining the Amarok's position as the class leader is the way it drives. While the latest pick-ups still can't match the best SUVs from behind the wheel, the Amarok is the closest you can get.
Stiff suspension isn't a surprise in a vehicle fitted with cart springs and designed to carry heavy loads, but the VW is more forgiving than its rivals, and is more comfortable as a daily runaround as a result. If you want a pick-up truck but rarely need to carry anything heavier than the average family's weekly shop, the Amarok is the leading candidate.
Our choice: 2.0 BiTDI Trendline
The punchy 2.0-litre BiTDI engine produces 400Nm of torque, making it perfect for carrying or towing heavy loads, while Trendline spec ensures you get the essentials without breaking the bank.
Commended
Ford Ranger
Pick-ups still can't rival proper SUVs for comfort, but the Ranger drives as well as a decent 4x4, with impressive body control and lots of grip. Factor in a classy cabin that could easily pass muster in an off-roader, plus smart looks, and you've got a hugely desirable commercial vehicle.
Toyota Hilux
It takes a long time to achieve legendary status, but the Hilux is a bona-fide motoring icon – and for good reason. It ranks as one of the all-time great pick-ups, and in the knockabout world of commercial vehicles its durability and reliability make up for the latest model's drab looks and dated cabin.