Get a VW up! for £82 a month
Euro-only, three-year VW up! deal covers all but fuel costs and is open to all ages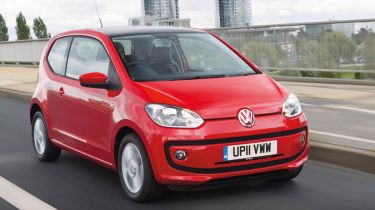 Fancy leasing a new VW up! for as little as the cost of a city car tyre every month? That's the astonishing deal being offered in Germany for the 10,000 Euro (£7,995) runaround.
Auto Express has discovered the VW up! will be leased in its home country for just 95 Euros (£82) a month to drivers of all ages. That includes road tax, servicing, breakdown assistance, warranty and comprehensive insurance. The three-year-deal doesn't even require a deposit. And VW's British bosses plan to offer a similar package here.
"All you have to do is put fuel in it," VW marketing boss Luca de Meo told Auto Express. Crucially, he said the offer would extend to even the youngest drivers. This is in contrast to rival schemes, such as Peugeot's popular Just Add Fuel, which starts at £169 a month for a 107 but is limited to drivers aged 25 and over.
"This is the most important new car for the VW brand and we need new customers, especially young people," de Meo said.
Equivalent prices cannot be confirmed until UK insurance costs and residual values have been worked out.
But the inclusion of young drivers will be critical, as cover costs can rule out a new car for most recently qualified drivers. Our research (below) reveals what an average 17-year-old would pay, for example, if leasing an £8,295 Peugeot 107 Urban Lite outside of the Just Add Fuel scheme – and it hikes the cost up to almost £350 a month, plus a £1,600 deposit.
A breakdown of the costs:
LEASE: Estimated cost for a 17-year-old to lease the 107 alone, using Peugeot Passport PCP - £123.03
SERVICING: Monthly cost if our customer signed up to 'Optiway' service plan - £16.57
INSURANCE: Estimated monthly premium for 17-year-old, sourced from insurer Aviva - £208.00
TOTAL: Monthly cost, not counting fuel bills, to insure and run 107 in the normal way - £347.60
(Source: Peugeot and Aviva. Insurance is estimated average cover for 17-year-old leasing new Peugeot 107 Urban Lite)
The up! goes on sale in UK dealers in the spring. Customers can place orders, but a VW spokesman said: "We want this offer as soon as we can."
The UK deal will probably be a hire-purchase scheme rather than a lease, but with no deposit. After three years, you'll be able to purchase your up! outright.