Bridgestone Turanza T001 review
Change of philosophy at Bridgestone looks to be paying dividends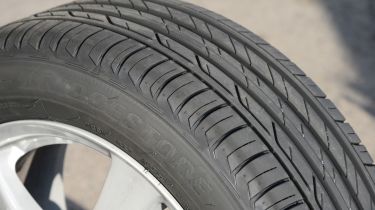 Change of philosophy at Bridgestone looks to be paying dividends
We've tested the previous T100 twice before in this size, and it hasn't impressed. So this result represents a major turnaround for the giant company, which insiders indicate has changed its development philosophy.
It's something we've seen in sub-brand Firestone's new Roadhawk, and now here with the new T001 EVO. There's been more focus on compounding, which is key to wet performance – an area where Bridgestone has failed to shine previously.
That wasn't the case this time on its home track. Across all the wet tests it was second best only to the accomplished Continental. It scored well on aquaplaning, with a win on the tricky curve and a close fourth in the straight assessment.
It was second in wet braking – admittedly a step behind the Continental – and a closer runner-up on the wet track. Here good traction paid dividends, pulling the car through the turns instead of pushing wide. It gave it a positive, sharp feel, plus the balance was good through the long turn.
It was up with the leaders in the dry, too, plus proved one of the quietest tyres here. And while it was in the middle of the pack for economy, trailing the best, it was in good company.
| | | |
| --- | --- | --- |
| Price | £66.46 | |
| Dry handling | 98.60% | 6th |
| Dry braking | 94.60% | 3rd |
| Wet handling | 98.40% | 2nd |
| Wet braking | 91.00% | 2nd |
| Wet cornering | 94.30% | 7th |
| Straight aqua | 97.20% | =4th |
| Curved aqua | 100% | 1st |
| Rolling resistance | 82.80% | 7th |
| Cabin noise | 99.90% | 2nd |
| Overall | 99.40% | 3rd |