Dunlop Sport Maxx RT 2 SUV review
Decent all-round performance makes this a good option for SUV owners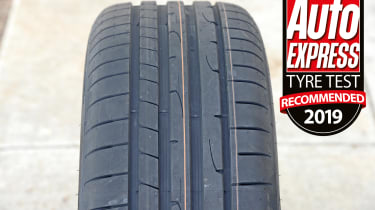 There's no doubt that this is something of a transition period for British brand Dunlop. The deal Goodyear had with owner Sumitomo changed in 2016, with the former selling Dunlop tyres in fewer countries. This has seen Goodyear looking to take over Dunlop's original-equipment listings, leaving the latter as a replacement tyre brand.
However, putting a set of Dunlop Sport Maxx tyres on your SUV is a pretty good idea. This SUV version of the RT 2 was launched early in 2018, and it matched its Goodyear Asymmetric 5 stablemate's performance through most of our tests.
It had the edge on fuel economy – although it would make little real-world difference – and in the dry, despite not being able to match the Continental's sharpness, or even the Goodyear's.
But it did prove effective around the swoops and sweeps of the dry handling track. Like the Goodyear it suffered as the temperature rose, but it was good enough to be within a second of the best.
It was effective in the wet, too, all but matching the Asymmetric 5 in the deep-water tests. It was also one of the best on the handling track, feeling sharp with good grip as the speed built up through the faster bends. Finally, it matched the Goodyear's performance in the noise test, where it finished a close fourth.
Blackcircles.com says...
"Initial reviews have praised this new tyre. It's early days, but impressive test results will likely pique the interest of motorists throughout the year"
Figures
Dunlop Sport Maxx RT 2 SUV
Overall
99.50%
3rd
Price
£131.88
Wet handling
99.50%
4th
Wet braking
99.50%
2nd
Wet cornering
97.90%
5th
Straight aquaplaning
99.00%
2nd
Curved aquaplaning
94.10%
3rd
Dry handling
99%
5th
Dry braking
99%
2nd
Rolling resistance
81.80%
4th
Cabin noise
99.30%
4th