Wheel Waxes tested
Wheel waxes seal in the shine on your alloys. But which is best? We choose from 12.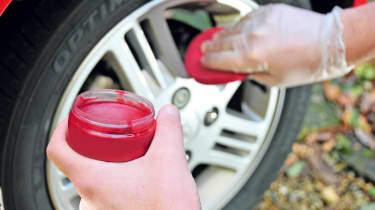 Specialist sealants can keep your alloy wheels cleaner for longer, reducing the amount of washing you need to do.
They work in much the same way as bodywork waxes or sealants, locking in the clean metal under a fine layer which slows the build-up of brake dust and road grime.
These products go by many names, but all aim to keep your wheels looking good for longer. Which is best? We tried 12 over a month to reveal the real grime busters.The test We weren't just looking for a wheel wax that was easy to apply; it also had to last. After cleaning our test car's wheels, we divided the driver's side front rim, leaving one section untreated.
Each product was applied to the maker's instructions, before we used a hose to judge how well they beaded water off the wheel.
Over the next four weeks, we checked it regularly to see which sections were cleanest, while a final hosing enabled us to assess beading at the end of our test. Price before postage was a factor, plus we rated how much you need to use.
Verdict
The same names are on our podium as in our 2010 test, but because we've tested them differently they're in a new order.
None of our 12 will disappoint, as each locked in that 'just-washed' shine. Yet the most durable was Collinite's No. 845. While it's not designed specifically for alloys, the thick liquid was simple to apply and beaded quickly.
Second was the Mer. A former Best Buy, it was also easy to use, and repelled water well into our four-week test, albeit slower than Collinite.
Top-value Angelwax is third. This durable paste will last a long time as you hardly need any of it, but it takes effort to apply.