Diesel Head filler cap
Avoid misfuelling misery by fitting a new filler cap.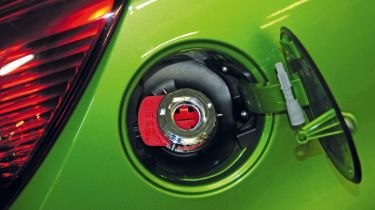 Price: £34.99 (standard); £39.99 (lockable)Contact: 0121 236 6144, www.dieselhead.co.uk
There's no way you can misfuel your diesel car with petrol if you fit the Diesel Head. This clever device replaces your standard filler cap, and prevents narrower petrol pump nozzles entering your tank.
Installation is simple. Unscrew the factory-fitted cap and place the Diesel Head over the filler neck, then tighten its three screws. Spare screws and a hex key are included in the box, as are simple fitting instructions, and our test car's filler flap shut easily with the product in place.
The mechanism in the Diesel Head has four catches, each at 90-degree intervals. When the widest points of the fuel nozzle touch the first two spring-loaded clips (opposite each other), the next two open up, allowing you to start fuelling.
Once you're finished, take the nozzle out and the clips spring shut in turn, locking again. At £34.99, it's not cheap, but misfuelling repairs can cost hundreds.
Just don't be tempted to fiddle with the mechanism before fitting – the catches have to close in a preset order, otherwise you can insert a petrol nozzle.
Verdict
Rating: ★★★★What is it?Gadget to prevent you from putting petrol into your diesel tank.Problems?Pricey, mechanism can be tricked when not fitted.Why buy?Simple to fit, discreet, effective solution.