Laser Tools insulated range for electric cars
Screwdrivers, torque wrenches and socket sets can be used on EVs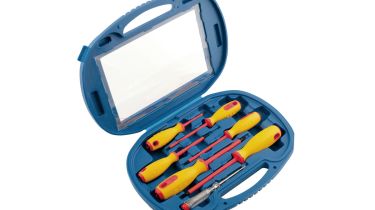 If you own a hybrid or an electric car, you probably think you can't carry out DIY maintenance. But all you need is the right equipment – and Laser Tools has just introduced a new range to help.
These insulated tools have been tested to cope with up to 1,000 volts – so whether you're working on an all-electric Nissan Leaf, or a hybrid like the Toyota Prius, you'll be protected if you come into contact with live wires.
The screwdriver set comprises three flatheads and three Phillips drivers – sized from 3x100mm to 1x80mm. It costs £32.18 and comes in a protective case.
There's a socket set with 14 sockets, ranging from 6mm to 19mm. The ratchet handle has a quick-release function, and there are extension bars, too. The 3/8-inch set costs £181.62.
Finally, there's the 3/8-inch-drive torque wrench which, like the socket set, also has a quick-release function. It works between 5Nm and 25Nm, should help tighten fasteners and costs £215.