X1 Shine and Seal Polish and Sealant
Two-stage kit gives your car a shine, then seals it in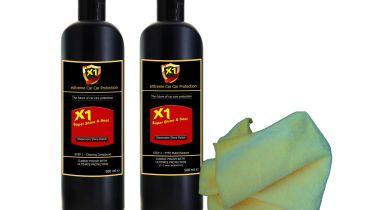 Car dealers often try to sell protection packages when you buy a new car, but they're pricey, at around £300. X1 Shine and Seal claims to offer the same lasting protection for far less cash – as long as you don't mind doing the work yourself.
Its new two-stage kit contains a polish and a sealant, to add shine and make it easier to clean your car. The non-stick formula has an anti-keying agent, so your bodywork should resist scratches as well as dirt build-up.
A 500ml bottle of Stage 1 is £19.95 – this will treat two cars, but will only last one year. To get the most protection, you'll need Stage 1 and Stage 2. A twin pack of 250ml bottles is £34.50 and will treat one car for up to three years, while a twin pack of 500ml bottles costs £59 and will coat two cars for the same period.
Each kit is supplied with a microfibre applicator cloth, and the company is so sure you'lllike the product, it's offering a 30-day money back guarantee.