Hankook Ventus S1 evo2 review
Quiet, safe and won't cost you a fortune to run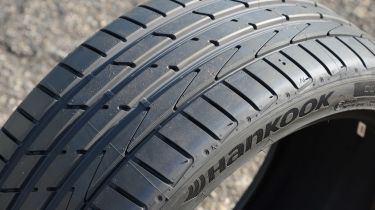 Quiet, safe and won't cost you a fortune to run
There's no doubt Hankook has made great strides in recent years, making it on to standard kit lists for premium brands like BMW and Mercedes. We've also got used to seeing it hovering around the podium in our tests. So a sixth-place finish for its Ventus S1 evo2 is disappointing.
In fact, just like in our previous tyre assessments, the S1 evo2 was very close to a medal place, but just came up short. Even though the tyre is a couple of years old now, it's good at the pumps and matches our overall winner. It also fared well in the cabin noise test, although yet again it was just outside the podium places.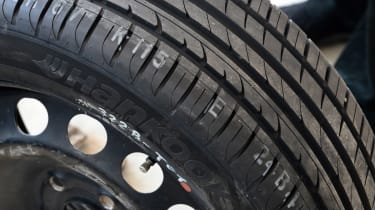 The compact wet handling track, with its series of similar turns, brought times closer together than usual. So despite finishing last for its performance in the wet, the Hankook was less than three per cent off the winner. It felt secure with no rear movement, but required more lock than some. Grip was lost progressively and was never concerning.
It felt better in the dry, with good front traction that allowed you to get on the power early, plus there was a sharp feel to the steering. The only area where the evo2 was further down the pecking order than Hankook would like was in wet braking, and even that score is skewed slightly by the impressive Michelin's performance.
Buy the Hankook Ventus S1 evo2 from Black Circles
| | | |
| --- | --- | --- |
| Price | £86.80 | |
| Dry handling | 98.90% | 6th |
| Dry braking | 97.10% | 7th |
| Wet handling | 97.30% | 9th |
| Wet braking | 91.40% | 6th |
| Wet cornering | 95.80% | 9th |
| Straight aqua | 97.80% | 5th |
| Curved aqua | 94.70% | 4th |
| Rolling resistance | 98.00% | 3rd |
| Cabin noise | 98.60% | 4th |
| Overall | 98.10% | 6th |