"It's time for Aston Martin to embrace a more radical design"
While editor-in-chief Steve Fowler thinks the Aston Martin DB12 is a beautiful car, he wonders if it looks a little too familiar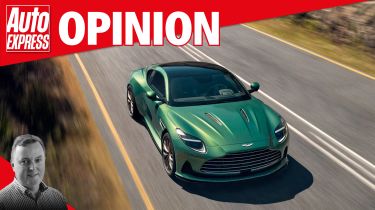 The launch of the new Aston Martin DB12 once again shines a light on one of Britain's greatest brands. And it comes at a time when the Formula One team – a very separate entity to the car company – is flying.
I, for one, have hugely enjoyed seeing a rejuvenated Fernando Alonso in the gorgeous green racer take multiple podiums as the best of the rest behind the seemingly unbeatable Red Bulls.
Alonso's team-mate, Lance Stroll, hasn't had the same degree of success, of course. It's a shame that Aston's F1 operation doesn't have two drivers who can fight it out on the track, but then, the team does belong to his father, Lawrence Stroll..
It's also his team at the helm of Aston Martin Lagonda – the car company – as it has been for over three years. So how has the firm done under his ownership?
The latest financial results were hardly spectacular, it must be said, making mention of "performance in line with expectations". Strong sales of specials – including deliveries of the Valkyrie hypercar – boosted revenue, while apparently the company's current range of GT and Sports models (Vantage, DB12 and DBS) is around 95 per cent sold out for this year.
In spite of that, if you want some of Aston's cars – especially in the United States – delivery can be prompt; we've heard that there are plenty of cars in stock.
And so to the DB12. We'll let you know how it drives soon, but the specs are impressive; Aston really seems determined to ramp up the performance, even calling it a 'super tourer' instead of a mere 'grand tourer'.
As for the looks, I can't help wondering if it's not time for the brand to move its current design language on in a more radical way. The DB12 is a beautiful car, certainly, but is it different enough from what's gone before?
Do you agree with Steve? Let us know in the comments section...