Deal of the Day: high-spec Audi A3 S Line saloon for £235 a month
This keenly priced lease deal on the Audi A3 includes S Line trim with bags of standard kit. It's our Deal of the day for October 19.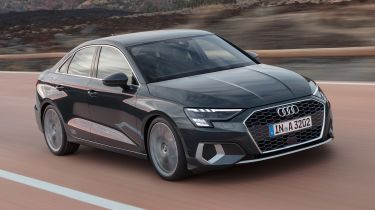 Two-year lease on A3 35 TFSI
148bhp petrol engine
Six-speed manual gearbox
All of the German premium brands have played with downsized executive saloons over the past few years – including Mercedes with the CLA, and BMW's 2 Series Gran Coupe. Audi's offering is a booted version of its A3 hatchback, and as the model heads into its last 18 months of life, there are some pretty hot offers on the leasing market. We've found one that could put you in an Audi A3 Saloon, in sporty S Line spec, for just over £235 per month.
The A3 Saloon can't match the BMW offering for handling dynamics, but it has a beautifully finished, understated cabin and plenty of technology, including a 10.25-inch digital instrument panel, a 10-inch infotainment system including navigation, dual-zone climate control and rear parking sensors. S Line trim, meanwhile, brings sports suspension, 18-inch alloy wheels, a bodykit that gives the A3 a more muscular look, leather sports front seats and aluminium pedals.
The model in question is the mid-range 35 TFSI, which means the VW Group's well-proven 1.5-litre 148bhp petrol engine, front-wheel drive and a six-speed manual gearbox.
The deal we're highlighting here is for a two-year personal lease, with a mileage allowance of 8,000 miles per year (you can trim a few pounds off the rate if you're willing to put up with a 5,000-mile limit, but we've stayed more realistic). The initial rental fee is a relatively punchy 12 months, at £2,826.81, followed by monthly payments of £235.57. 
Of course, this is a personal contract hire lease, so you'll be locked into a two-year arrangement and will be forced to hand the car back at the end, with no option to buy or put any of the equity left in the vehicle towards its replacement. But the savings compared with the traditional, more flexible PCP arrangement over that two year-period are considerable; Audi's own finance deal on this car, with a matching mileage limit, would cost you over £6,300 as a deposit and £351 per month.
As with all our deals of the day, this is a great deal on a car we're happy to recommend and is chosen as a deal of the day by our experts. Terms and conditions will always apply, deals are subject to availability and prices are subject to change.
Get the Audi A3 Deal of the Day or take a look at yesterday's deal here…