Car tax bands: 2022/2023 VED bands explained
Our guide to the VED road tax bands for cars registered from 1 April 2017 onwards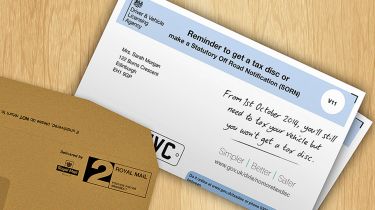 For many drivers, Vehicle Excise Duty (VED) - commonly known as road tax or car tax - is an inescapable aspect of car ownership. Furthermore, it's one that brings with it the annual struggle of deciphering the latest band changes, as the Treasury tries to squeeze as much cash as possible from drivers.
On 1 April 2022, the latest set of changes to road tax for new cars came into force. This saw the existing VED band structure adjusted for inflation once again. Auto Express has looked at the numbers, and here you can check exactly how much you'll pay in road tax for your next new car. 
How much road tax will I pay?
If you buy a new car, the car's price isn't just what the manufacturer expects you to pay for it, as there are additional costs included. There's VAT, which charged at 20 per cent, for starters, and there's a registration fee - for the number plates and getting the V5C from the DVLA – and any delivery charges that the dealer will also add.
Plus, there's VED, which for the first year of a car's registration is calculated differently to the rest of its life. You can find out about how much you'll pay through a car's life here. But in this article, we're concentrating on the amount buyers will pay as part of a new car's 'on-the-road' costs.
For the first year, VED is calculated on the car's carbon dioxide (CO2) emissions. Our table below shows how much you'll pay if you buy a new car today:
VED tax bands
VED car tax bands for cars first registered from 2017 onwards
Emissions (g/km of CO2)
Petrol and diesel first-year rate
Alternative-fuel vehicle first-year rate
Standard petrol/diesel annual rate
Standard alternative fuel annual rate
0
£0
£0
£0
£0
1-50
£10
£0
£165
£155
51-75
£25
£15
 
 
76-90
£120
£110
 
 
91-100
£150
£140
 
 
101-110
£170
£160
 
 
111-130
£190
£180
 
 
131-150
£230
£220
 
 
151-170
£585
£575
 
 
171-190
£945
£935
 
 
191-225
£1,420
£1,410
 
 
226-255
£2,015
£2,005
 
 
Over 255
£2,365
£2,355
 
 
Cars above £40,000 pay a £355 annual supplement for five years from the second year of registration.
The last major set of UK road tax changes in April 2017 saw a fixed rate of road tax applied to cars after their first year of registration, and these new VED rates are not retrospective so can't be applied to older cars. So after the first year rate above, road tax is £165 per year, although there's a £10 annual discount for alternatively fuelled vehicles (hybrids, mild hybrids and plug-in hybrids) and electric cars are tax free. From 1 April 2025, hybrid and electric cars will pay the full rate of VED.
Read more about the UK's VED road tax system here...