Audi R8 LMX revealed
Audi beats BMW with first laser lights in production car, special edition is most powerful R8 ever
Audi has confirmed the R8 supercar will be the first production model to bring laser-powered headlights into production, beating the BMW to the punch.
Audi is scoring the coup with a run-out special R8 supercar, named the R8 LMX. It's the most powerful R8 yet, usurping the 542bhp R8 V10 Plus at the top of the R8 tree.
The R8 LMX's uprated 562bhp V10 powers it to 62mph in just 3.4 seconds. Other spec goodies include standard-fit carbon ceramic brakes, a fixed rear spoiler and aerodynamic front winglets, and Audi's seven-speed 'S-tronic' dual-clutch gearbox. The R8 LMX, of which just 99 will be built, will cost €210,000 in Germany (circa £172,000).
• What is the world's fastest car?
It'll go on sale in 'early summer' 2014, just ahead of BMW's laser-light equipped i8 hybrid supercar, which is available from August 2014. BMW has to instead settle for the i8 being the first 'series production car' with laser lights, as its build total isn't limited, in contrast to the R8 LMX.
This isn't the first time Audi's used the R8 to show off clever light technology. R8 was the first car to introduce full LED headlights in 2008 and it also introduced progressive LED indicator lighting at its facelift in 2012. Audi also claimed a breakthrough with the Matrix LED system in the A8 in 2013.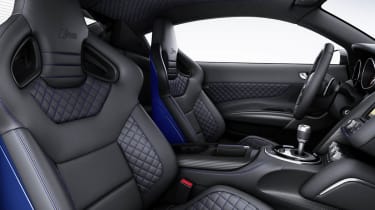 The lights are designed to deliver two exceptionally bright oval spots that search out well beyond the standard LEDs, but which then arc away from other cars to provide enormous vision without impacting other road users.
Each of the R8 LMX's headlights has twice the range of a full LED headlight at high beam – around 600m to be precise - by using four high-powered laser diodes (the i8 uses three).
While the R8 LMX won't use a pure laser-powered light, it will use a combination of LED and laser-powered high beams. The so-called Laser Lights actually shine back towards the car and never leak onto the road, and are used to excite a phosphor converter to create a brilliant, white light source.
Audi will show the world its laser-light technology during June 14-15's Le Mans 24 Hour race, where its R18 e-tron quattro will use similar laser-powered headlights to surpass the blistering full LED systems it has used in the recent past.