Mercedes S-Class
German limousine is still the best in the business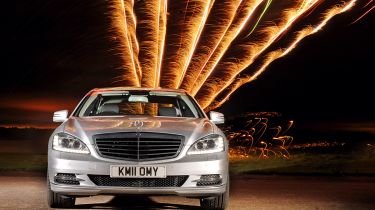 Why it won...
It takes a really special car to win five consecutive New Car Awards – and the Mercedes S-Class is exactly that. It has dominated the luxury saloon sector since 2007, seeing off newcomers from all corners of the market. Last year it withstood the challenge of the Jaguar XJ, and this time around it had to fend off the new Audi A8 – but the Mercedes still reigns supreme.
Luxury cars are the first-class travel of the automotive world, and the S-Class really delivers. It's a superb flagship for the rest of the three-pointed star's model line-up, and a technological tour de force. However, what sets it apart here is the astonishingly comfortable ride. While other luxury brands prioritise efficiency or sportiness, Mercedes has stuck to doing what it does best – by coming up with the most relaxing saloon in the business.
Its serene ride and cosseting seats pamper and cushion occupants like few other models. Rivals may provide more dynamic handling or superior economy, but none can match the S-Class's imperious refinement. And there's more to the car than comfort. A bewildering array of gadgets helps to make this one of the safest and most hi-tech models money can buy.
Nothing can touch the S-Class when it comes to image, and despite being one of the oldest cars in the sector, it still has real presence. So, its grip on the number one spot shows no sign of weakening yet.
Our pick: The S350 CDI is the stand-out model in the S-Class range. Predictably, diesel is the way to go, and this version offers the best combination of performance and affordability. Stunning AMG delivers blistering performance, while the lesser petrol examples are incredibly smooth.
Highly commended
Audi A8
The Audi A8 is a brilliant luxury car. First-rate cabin quality, a talented chassis and excellent engines put it within striking distance of the class leader. Only its anonymous looks, and the fact the Mercedes is more cosseting over long distances, prevented it from taking a memorable victory this year.
The number one luxury car choice if you value driving thrills above comfort. The XJ makes a real style statement and compensates for its firm ride and limited rear headroom with an engaging chassis and sumptuous cabin. Top-of-the-range Supersport model blends head-turning looks with sizzling performance.