BMW 3 Series Convertible
German firm produces another serial class winner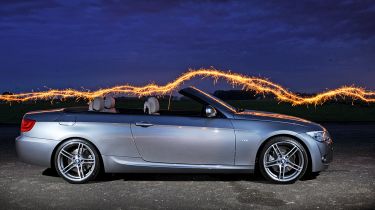 Why it won...
It's three in a row for the BMW 3 Series Convertible. Nothing has been able to dislodge the superb drop-top since it took over at the summit of the sector back in 2009.
Once again, our judges were looking for the best four-seater cabriolet in the business, and the brilliant BMW is it. Although there are younger rivals to choose from, no competitor can match the 3 Series' broad talents. With its slick folding metal hard-top, this cleverly packaged machine can switch from coupé to convertible at the touch of a button – and 23 seconds is all it takes for the highly intricate roof mechanism to complete its party trick.
There's more to the BMW than a fancy top, though. The sharp handling and strong performance we've come to expect from the saloon haven't been compromised, either, and the car stands out from rivals with its blend of agility, grip and sheer driving enjoyment.
Then there's the competitive prices, and the range of economical petrol and diesel engines, which are central to the affordable running costs. The brand's famed EfficientDynamics hardware helps to slash emissions and boost economy, with the 320d Convertible putting out only 135g/km of CO2 – not bad for a four-seater drop-top producing 181bhp.
If performance is your thing, the broad line-up is sure to have something suitable, from punchy diesels to the storming petrol V8 in the potent flagship M3 Convertible. At this rate, the only thing capable of dethroning the stunning BMW will be its replacement...
Our pick: The 320d Convertible is the best all-rounder in the line-up. Engaging driving dynamics, penny-pinching fuel economy and strong refinement make it a popular choice, especially for business users. Fans of high-performance diesels should raise their sights to the 330d.
Highly commended
If you prefer the style of a fabric roof, look no further than the Mercedes E-Class Cabriolet. Its compact hood ensures decent cabin space, while year-round top-down fun is a realistic proposition thanks to a raft of hi-tech features to keep you warm.
You don't need a huge budget to enjoy one of the best convertibles around. The Eos is the finest compact coupé-cabrio on sale. Setting it apart is its excellent engine line-up, classy cabin and clever folding hard-top, which features an opening glass sunroof.