Nissan e-NV200 Combi - Best electric cars
Nissan was one of the first firms with a mainstream EV, and it's the first with an electric MPV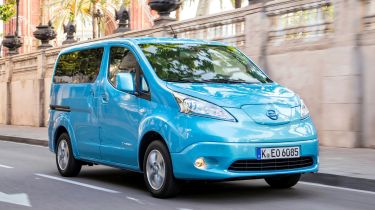 Here's proof that the current crop of EVs come in all shapes and sizes. The Nissan e-NV200 Combi is a seven-seat people carrier that's based on the NV200 van. While the commercial vehicle roots mean it's a pretty agricultural drive, the e-NV200 offers the most space of any electric vehicle on sale.
It has some bespoke styling cues to help it stand out from the regular NV200 van, all of which have been inspired by the Leaf hatchback. There are body coloured bumpers and a smooth nose featuring a charging flap set in the middle. There are blue badges and a unique wheel design. while the e-NV200 comes in exclusive colours such as white and light blue metallic.
The e-NV200 has running gear shared with the Leaf, too. There's a 24kWh lithium-ion battery pack under the passenger floor, while Nissan claims that the e-NV200 has a range of around 110 miles on a full charge.
Power comes from an 80kW electric motor that drives the front wheels. Unfortunately, the e-NV200 is very van-like to drive, so it has stodgy handling, with a high centre of gravity, vague steering and a bouncy ride.
Still, sharp handling isn't what the e-NV200 is about. If you want the most amount of space from an electric car, then the seven-seat Nissan is the best there is. Sliding doors mean access to the back seats is a piece of cake, while the large body means all five back seats have plenty of room.
Up front, the dashboard gets a hi-tech makeover to help you make the most of the car's electric drive, while the huge glass area and standard reversing camera means the e-NV200 is a lot easier to maneouvre than its large dimensions would lead you to believe.
Best electric cars 2018
1. Nissan Leaf
3. BMW i3
4. Renault ZOE
10. Nissan e-NV200 Combi