How does Driver Power work?
Each year our Driver Power survey gives owners the chance to tell us about the cars they bought over the last two years. Here we explain how it works...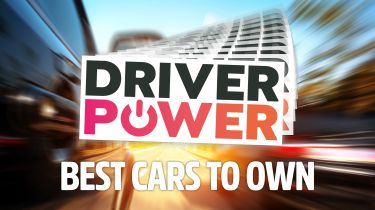 Welcome to Driver Power 2022, and a massive thank you to the thousands of you who took part in the biggest, most respected and comprehensive car ownership survey in the UK.
Each year, thousands of owners report back to us on the cars they bought over the last two years, telling us about how comfortable they are to sit in, to how fast they accelerate, how well they handle, if they can be depended on to start on the button - and much more besides.
Collating all these responses is a mammoth job - there are around 400,000 individual data points to analyse - but that work is undoubtedly worth it, because here we're able to reveal the top 75 cars to own, as voted for by car owners just like you.
These results form something of a car-buyer's bible for consumers, who can get the inside line on what life is really like with these models over the course of a typical ownership period. Are their infotainment systems up to snuff? Do they feel responsive when you steer and brake? How much interior storage is there on board, and does their build quality match up to their looks?
How the Driver Power ratings work
Here's a quick guide to the all important Driver Power car ratings.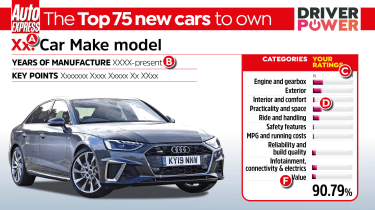 A. This number tells you where the car sits in the Driver Power top 75. If your model isn't listed, look out for our used-car survey in September.
B. Here we tell you how long each car has been in production, as well as the main things owners commented on when responding to the survey.
C. We have 10 judging categories, and the percentage is the average of a car's scores. This is its rating, and defines its overall chart position.
D. These bars represent a score in each of our 10 judging categories. The longer the bar, the better the car performed in that particular area.
E. We've picked out some interesting comments – some favourable, some less so – from owners of each model.
F. We've expanded our judging categories to include Value. A high score shows that a car offers a lot for what you pay for it.
Did you know?
Driver Power is the UK's biggest and best automotive consumer survey and when you delve into all that data there are some fascinating facts to be pulled out. Here are 21 of the best from Driver Power 2022…
Seven of the top 10 cars in this survey are from Asian manufacturers - four Korean and three Japanese. There are also two European top 10 contenders and one American.
Three of the top five cars in the 2022 survey also featured in the top five last year, albeit in different positions. The Mazda CX-5 and Kia Rio have swapped places, for example.
The Kia XCeed's winning score of 93.31% puts it way ahead of the competition. Its nearest competitor was more than a percentage point lower, which is significant in our rankings.
The top three cars in the engine & gearbox category are all available with electric powertrains.
Eight of the top 10 cars in the survey are SUVs. Only one supermini and one executive car are among them.
As well as getting two of its cars in the top five, Kia has snatched four out of nine class wins, demonstrating the popularity of its range.
Last year's winner, the Hyundai Kona, came fourth this year. Its score has fallen from 92.35% to 91.90%.
The Skoda Kodiaq came sixth in 2021, while its little brother the Karoq took fifth. This year, the Kodiaq is fifth, while the Karoq only managed 18th.
The Skoda Kodiaq, Kia XCeed and Audi A3 are the three best cars when it comes to interior storage and cubby holes.
The highest ranked 'British' car in the survey is BMW-owned MINI's Hatch. The Jaguar F-Pace is next in 19th, followed by the MINI Countryman in 36th.
No one likes a fiddly touchscreen. We're told the Dacia Duster has the best balance between physical and touchscreen controls, followed by the Kia XCeed and BMW 1 Series.
The Range Rover Evoque is the best-looking car in our survey, according to owners. The MINI Hatch is second-best in this area, while the Kia XCeed comes third.
The all-electric Kia E-Niro and Tesla Model 3 take the two top spots in our ranking for gearbox smoothness. The Honda CR-V, which comes with a manual or CVT, is third.
The MINI Hatch has the comfiest front seats of any car in the survey, you reckon. The Kia XCeed and Volvo XC40 rank second and third respectively in this area.
The Skoda Kodiaq has a better ranking for reliability than any other car in the survey, but it's the MINI Hatch that wins top marks for overall build quality.
If it's a smooth ride that matters more to you than anything else, buy yourself a Range Rover Evoque. The Toyota C-HR is runner-up in this field, followed by the Kia XCeed.
Electric cars may be expensive to buy, but this is partially offset by low servicing costs. For the second year running, the Tesla Model 3 is ranked as the cheapest to service.
It's important to feel you've got a good deal on your new car. Dacia Duster owners are most impressed with their car's value for money; the Mazda CX-5 and Kia XCeed are good deals, too.
Fuel and electricity prices are a big concern at the moment. The Hyundai Ioniq, available as a hybrid or EV, gets the best score for fuel economy, followed by the Honda Jazz and Toyota Aygo.
If you want a car with a satisfyingly large boot, the Skoda Kodiaq is for you. The Land Rover Discovery Sport also does well, while the Honda Jazz's Magic Seats impress owners.
If you find safety features such as lane-keep assist intrusive, the Honda CR-V's are the easiest to turn off. It's also easiest to deactivate functions in the MINI Hatch and Tesla Model 3.
Not had your say yet?
You can take the Driver Power survey today and tell us about your car. But we're not just interested in newer cars, there's a used car survey for older models and we want to hear about your experience at the dealership, as well as how you find your car insurance company, breakdown recovery firm, electric car charging operators - if the service is of interest to motorists, it's of interest to Driver Power so please take the chance to have your say. There are 1,000s of motorists who would really appreciate your help. Click here to get started...