Best Compact Executive: BMW 3 Series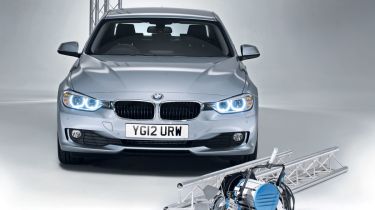 Why it won...
Improving on perfection isn't easy, but the BMW 3 Series did just that when it arrived earlier this year. The outgoing model still ruled the compact executive roost at the time, so the new car had a job on its hands simply to be better than its predecessor.
We needn't have worried, because the latest version has the dynamic prowess, efficient engines and classy interior that have made the old car such a hit – and adds a welcome extra dose of style and space to the recipe. As a result, the 3 Series is still the default choice if you're in the market for a classy and cost-effective company car.
EfficientDynamics hardware includes stop-start technology and active aerodynamics, which help to slash both fuel bills and CO2 emissions, and this gives the 3 Series the edge over its rivals in the battle for company car honours. We're big fans of the new look, too – the intricate grille provides some much needed visual interest on the outside. And from behind the wheel, it's as fun to drive, capable and refined as ever.
Inside, it's apparent that BMW has been in the business of making prestige saloon cars for decades. After years of evolution, the iDrive system is now a slick and user-friendly interface for controlling the standard-fit Bluetooth, stereo and optional sat-nav. And material quality is absolutely top-notch.
Yes, the 3 Series might seem an obvious choice as our favourite compact executive for the fourth year in a row, but the talents of the latest version make it a worthy winner.
Our choice: 320d EfficientDynamics
Compact executive saloons are aimed squarely at company car drivers, and the new 320d ED scores a direct hit. Its 2.0-litre diesel engine is tuned to optimise efficiency, resulting in CO2 emissions of 109g/km – and an enticingly low tax burden.
Commended
Audi A5 Sportback
The A5 Sportback is one of the executive sector's best kept secrets. Its sleek profile and hatchback body work wonders for both its styling and practicality, and it comes with a comprehensive choice of engines and transmissions. It's a far more stylish alternative to the sensible A4 saloon.
Citroen DS5
You've got to admire Citroen. Rather than try to beat the Germans at their own game, it has taken a very different path. The result is one of the most eye-catching cars on the road. The DS5 isn't an engaging driver's car, but if the clinical efficiency of its rivals leaves you cold, look no further.