BMW 3 Series
The 3 Series continues its undisputed reign as king of the compact executive class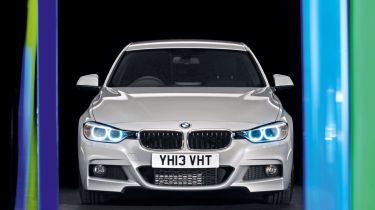 Five years – that's how long the BMW 3 Series has dominated the compact executive class for.
The current model picked up last year where the outgoing car left off, and nothing has come along in this demanding class in the last 12 months to upset the status quo.
Convincing company car drivers is the key to success here, and the 3 Series presents a cast-iron argument for victory. With its low CO2 emissions, solid gold corporate car park kudos and engaging driving dynamics, it's still the undisputed king of the compact executives.
It's competitively priced for a start, and all models are well equipped, with features such as Bluetooth 
and DAB radio included as standard.
Factor in a desirable badge, sleek exterior design and a high-quality cabin, and you have
all the makings of a dominant win. And despite its premium image and sporty driving experience, the 3 Series costs peanuts to run.
This is mainly thanks to the company's highly effective EfficientDynamics technology. The bread-and-butter 320d emits just 109g/km of CO2, and even the potent 181bhp version only produces 119g/km. When the amount of company car tax you pay is calculated on emissions, these are compelling numbers.
So the BMW is a clear winner, yet we haven't mentioned the sublime handling yet. It's blessed with an engaging and rewarding rear-wheel-drive chassis, so you can derive just as much enjoyment from your daily commute as you can from the knowledge that you won't be paying a small fortune for the privilege.
Our choice: 320d EfficientDynamics Business (£29,885) Emitting just 109g/km, the 320d ED is a compelling proposition for company drivers, 
yet it's fun and desirable, too.
Commended
Audi A5
 Sportback
If you want to cut a dash 
in the office car park, the A5 Sportback is a great choice.
 The swooping roofline and practical hatch tailgate make it a more stylish prospect than the straight-laced A4.
BMW 3 Series GT
The 3 Series GT is a bigger and more family-friendly version of the brilliant saloon. It's ideal if you need greater practicality or fancy something different to the traditional saloon.
 It's efficient and good to drive, too.