Volkswagen Beetle
With funky looks, premium quality and low running costs – frivolity has never been so sensible. Or so desirable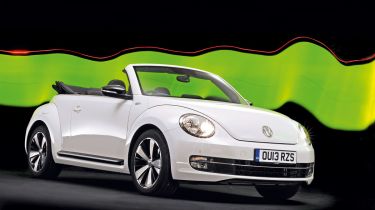 This summer has been a washout, but happily our convertible champion brings a ray of sunshine to the roads.
Funky retro styling and a distinctive interior mark the VW Beetle out, while composed dynamics and top-notch quality prove it's got the substance to match its style.
Thanks to an upright windscreen, you get more wind-in-the-hair thrills than in rivals, yet you won't be blown around too much in the cabin.
Roof-up refinement is just as vital in the UK – and the VW doesn't disappoint, with a beautifully executed fabric hood. So much so that you'll hardly notice the difference between it and the regular Beetle.
Folding the roof couldn't be simpler – all it takes is the press of a button and 13 seconds. Rear visibility is good and boot space isn't affected by the roof's position, so you can lower it at any opportunity.
If you're worried that chopping the roof off has resulted in lots of wobbles and creaks, then the Beetle should put your mind at rest – the solid Cabriolet copes with twisty, rutted and potholed British B-roads brilliantly.
On top of all this, you get to enjoy low running costs and some of the best petrol and diesel engines that money can buy. Frivolity has never made so much sense.
Our choice: 1.2 TSI Design (£20,800) Mixing eager performance with extremely impressive fuel economy, the 1.2-litre TSI turbo petrol engine makes most sense in the Beetle. So do the nostalgic looks and generous amount of standard kit you get with Design models.
Commended
Porsche 911 Carrera
The soft-top 911 is closer to the coupé 
in dynamic terms than ever before, and with the fabric hood in place, the body's evocative shape is retained. Lower the roof and you can enjoy the distinctive sound of the flat-six engine close up.
If you want something less extrovert than the Beetle, look no further than the Golf Cabriolet. Last year's champ blends the hatchback's traditional strengths
– such as good refinement and decent practicality – with some top-down fun.