BMW 5 Series 520d Efficient Dynamics
The 520d is a great all-rounder - mixing comfort, economy and performance in a practical package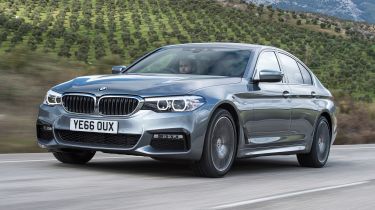 Like the new 3 Series, the current 5 Series benefits from a 100kg weight reduction over its predecessor. This aids driving dynamics, important in all BMW saloons, as well as efficiency.
The 520d makes up a huge chunk of 5 Series sales and it's not hard to see why. The 187bhp 2.0-litre turbocharged diesel gives the 520d a warm-hatch rivalling 7.5 second 0-62mph time but BMW claims in Efficient Dynamics spec it'll will reach 72.4mpg.
Of course, there are much more powerful engines available with the 5 Series - topping out in the form of the 616bhp M5 Competition, but the 520d is a competent performer, providing the driving experience you'd expect of a BMW and the efficiency you may not. 
Best diesel cars to buy in 2019