'I fear that Frankfurt and other colossal shows are unsustainable'
Mike Rutherford believes that carmakers' big-budget displays at motor shows are untenable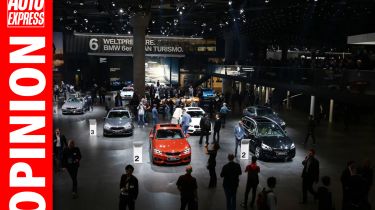 I don't like motor shows. I love 'em. Yet even this car exhibition addict has to question the somewhat bonkers 14-24 September Frankfurt event which covers more square kilometres than any other static car gathering on the planet.
The sheer scale of the ever-expanding event troubles me. But the costs involved are even more worrying as the big three Germans each spend millions – possibly tens of millions – on their respective multi-storey, symbolic monuments constructed by thousands of workers.
• Frankfurt Motor Show 2017 round-up
Why should you care that they're blowing obscene sums employing thousands of builders, then demolition experts, for weeks if not months, while also renting acres of space on what must be one of the most expensive pieces of real estate in Germany?
Because as a consumer, you're paying for these excesses. If they were reduced it's unlikely the cars you buy would cost less. But instead of building a temporary 'mine is bigger than yours' Frankfurt monument in a futile attempt to outdo BMW and Mercedes, might VW spend its money more wisely properly compensating cheated customers conned in the Dieselgate debacle?
Could BMW's massive Frankfurt spend be partly diverted into something more useful – like reducing the eye-wateringly high price of servicing/labour costs at its franchised dealerships? Wouldn't Mercedes impress its customers more if it invested less on its Frankfurt show edifice, and more on making its replacement parts affordable?
I fear that Frankfurt and other colossal shows featuring stands the size of small countries are unsustainable. They've become just too fat and too expensive for some manufacturers. As a motor show aficionado I say make them smaller, cosier, more humble and less expensive – for companies to exhibit, and for members of the public to attend.
Oh, and one last thing: why, oh, why do the German giants and other huge corporations with more money than sense stick so rigidly to the decades-old formula of static displays at shows? In the outdoor arenas alongside the echoey Frankfurt show barns, Jaguar Land Rover and one or two other manufacturers had exciting cars being driven in anger. Good on them. And shame on the other firms who parked up their cars on their multi-million stands in the hope that this was enough. It wasn't.
Do you think motor shows should be trimmed down? Or is it a case of 'the bigger the better'? Tell us what you think!