'Samsung is about as profitable as Ford, Renault, Hyundai and the VW Group combined'
Mike Rutherford reflects on the rise and rise of Samsung and thinks the Korean company has a big part to play in the automotive industry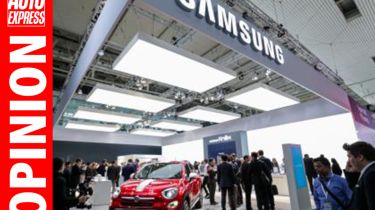 I wish I'd kept every issue of Auto Express since day one. Had I done so, I'd have a copy of the 'Samsung is coming' headline and story I wrote shortly after we launched in 1988. In the three decades since, Samsung has become South Korea's largest and most profitable company. 
Very deliberately it's merely dabbled in the car game so far – mainly, but not entirely, via its downplayed fringe business, Renault Samsung Motors. But I've always suspected that when (not if!) the giant launches itself fully on the global automotive stage, it's far too large, wealthy, clever and proud to do so in conjunction with a traditional car maker. 
If profits are anything to go by – and they are because they fund the highest levels of R&D, salaries, finest acquisitions plus the right factories in the right countries – then Samsung leaves most old-school car makers looking like cottage industries scratching to earn a living. A 17 per cent year-on-year hike in annual profits to almost $20billion puts it among the world's top 10 firms. 
On its own, Samsung was about as profitable last year as Ford, Renault, Hyundai and the VW Group combined. It's rich enough to become more of a major EV player and now has the will, plus the technical capabilities, to go deep down the auto road. If it can do state-of-the-art aircraft, military vehicles and globally significant consumer products, it can certainly do driverless or driveable electric cars and trucks. Samsung vehicles or vehicle tech are set to become as much a part of our lives as its other devices, such as smartphones. 
The company recently paid $8billion to acquire Harman, which will greatly assist in its assault on the global EV market. The two firms last week established the Samsung Automotive Innovation Fund before adding that they'll play a "leadership" role in supporting and shaping connected vehicles.
When its EVs (some Samsung-branded, some not) arrive, all these consumer goods will be talking to and working with each other. At the very least, your Samsung phone will replace your sat-nav device. And don't rule out your EV automatically switching on your Samsung entertainment system and central heating when it detects you're heading home on a winter's night. Not that you'll necessarily need to, because your 'Samcar' could double as a tiny detached house on wheels.
Which tech giant do you think will have the biggest role in the automotove industry in the years to come? Let us know in the comments below.