Oxford city centre to become world's first Zero Emissions Zone by 2020
In three years' time, parts of Oxford city centre will ban petrol and diesel cars prior to full non-EV ban in 2035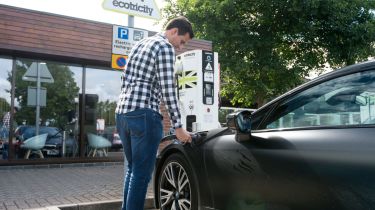 Oxford city is set to become the world's first Zero Emission Zone (ZEZ) by banning petrol and diesels cars in the city centre from 2020.
In a joint proposal by Oxford city council and Oxfordshire county council, the plan is to ban conventional fuel vehicles in certain parts of the city centre in 2020. A move to ban all non-EVs across the city will follow in 2035, five years before the Government plans to ban sales of new petrol and diesel vehicles nationwide.
• Best electric cars on sale 2017
According to the city council, Oxford city centre currently has illegal levels of nitrogen dioxide (NO2), a leading cause of diseases such as cancer and heart disease. Over 40,000 deaths a year in the UK are caused by air pollution according to a 2016 report by the Royal College of Physicians and Royal College of Paediatrics and Child Health.
Despite NO2 levels dropping by 36.9 per cent across Oxford, certain parts of the city centre are still highly polluted. By implementing the two stages of the ZEZ, George Street, Oxford's most polluted street, will reduce its nitrogen dioxide levels by 74 per cent in 2035, placing it below the legal limit.
The city council has already begun to prepare for the Zero Emissions Zone, having secured £500,000 of Government funding to install charging points for electric taxis and a further £800,000 to install 100 EV charging points for regular motorists. Further funding was requested in June to progress the ZEZ proposal.
• New electric cars A to Z: full guide to all the EVs and plug-in hybrids on sale
Councillor John Tanner of Oxford city council said: "Toxic and illegal air pollution in the city centre is damaging the health of Oxford's residents. A step change is urgently needed; the Zero Emission Zone is that step change."
"The County and City together are proposing a staged Zero Emission Zone from 2020 in the city centre, with additional measures to bring down chronic pollution in St Clement's Street, High Street and St Aldate's. Everyone who uses Oxford centre has the right to breathe clean air."
A six-week public consultation will be held from the 16 October to the 26 November to gain feedback from the public concerning the zero-emissions proposal.
Tanner has urged everyone who uses the city centre to take part, adding: "We need to know what people's needs are, so that we can plan a Zero Emission Zone that minimises impact on business and residents while maximising impact on the city's health."
Does the Zero Emissions Zone make sense for Oxford city centre? Tell us what you think in the comments area below!