One in 13 UK lorries fitted with emissions cheat devices
Driver and Vehicle Standards Agency announces findings after conducting almost 4,000 roadside tests on HGV emissions levels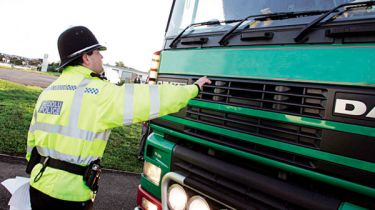 One in 13 lorries tested by the Driver and Vehicle Standards Agency (DVSA) have been found to be fitted with an emissions cheat device following roadside checks.
The DVSA conducted emissions tests on 3,735 lorries between August and November 2017, and found 293 had been fitted with devices intended to provide false emissions readings.
• Diesel ban? Will diesel cars be charged to enter UK cities?
Northern Irish lorries were most likely to have defeat devices fitted, with 20.4 per cent of tested trucks being found to have been equipped with one. And while 4.9 per cent of foreign-registered lorries were similarly equipped, 8.5 per cent of trucks registered in Great Britain were also caught. The nabbed truckers were given 10 days to rectify their vehicles' failings, or face fines of £300.
One trick said to be used by unscrupulous haulage firms involves fitting an AdBlue 'emulator'. This fools the a lorry's electronic brain into thinking AdBlue – an emissions-reducing, urea-based liquid– is being squirted into a vehicle's exhaust system as it should be, when in fact the AdBlue system has been disabled. In so doing, lorry owners are able to save on AdBlue – and therefore operating costs - at the expense of air quality.
Other tricks involve removing diesel particulate filters, bypassing exhaust gas recirculation valves and using cheap, non-standard AdBlue substitutes.
• VED road tax bands explained
In light of these findings, the DVSA is to conduct further inspections of lorries owned by over 100 companies, and has passed its initial findings on to the Traffic Commissioners for Great Britain, which has to power to revoke operators' licences.
The DVSA's Gareth Llewellyn said: "We are committed to taking dangerous lorries off Britain's roads. Stopping emissions fraud is a vital part of that.
"Anyone who flouts the law is putting the quality of our air and the health of vulnerable people, at risk. We won't hesitate to take action against these drivers, operators and vehicles."
What do you think of the news that HGVs are using emissions cheating devices? Let us know in the comments...