Low profile tyres: everything you need to know
Ever wondered what low-profile tyres are? Well wonder no longer, as we explain tyre profiles and what they mean for your car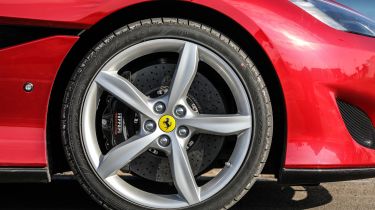 If you've been looking at used cars for sale, or you want to buy new tyres for your car, then you might have come across the phrase 'low profile tyre'. But what does it mean? Well, obviously it relates to your car's tyres, and it refers to the size of the tyre sidewalls in relation to the tread that comes into contact with the road. 
If a tyre has a low profile, it means that the sidewall of the tyre is shallower than normal, and it usually means that the tyre is fitted to a larger diameter wheel. Low-profile tyres with big wheels are usually the preserve of higher performance models in a new car range, although there's nothing stopping owners from fitting bigger wheels with low-profile tyres to a standard model.
• Tyre reviews: best car tyres 2017/2018
But why would you want to add low-profile tyres to your car? Well, it's a cost-effective way of giving an ordinary model a sharper look. A set of shiny, larger diameter alloys fitted with low-profile tyres can perk up the appearance of any car, especially if it originally came with steel wheels and cheap plastic trims. Another benefit of low-profile tyres is an improvement in a car's handling. 
Of course the opposite of a low profile tyre is a high profile one, and the difference is visually obvious when the two are compared, because there's a lot more tyre sidewall before you get to the wheel. You'll normally find these on basic cars and 4x4s that need the extra height to protect the wheels from damage on rough terrain. You'll also find higher tyre profiles on Formula One cars, as the tyre and wheel dimensions are fixed by the rules.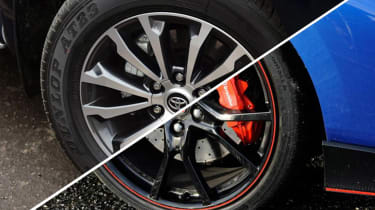 The size of a tyre sidewall is recorded on the sidewall itself, as part of the string of numbers that signifies the overall size of the tyre. This code shows the width of the tyre tread, the height of the sidewall and the diameter of wheel the tyre is designed to be fitted to. While the tyre width is in millimetres and the wheel size is in inches, the sidewall size is expressed as a percentage of the tyre's width. These percentages are set at five per cent increments, so the lower the number (down to about 30 per cent for the lowest of profiles), the shorter the sidewalls.
Low profile tyre pros and cons
One benefit of low-profile tyres is the fact they usually look smarter than standard tyre set-ups. That's because if you're going to fit low-profile tyres, you must put them on larger wheels so that the overall rolling diameter of your car's tyres and wheels stays the same. 
This is important, because if you just go ahead and fit lower profile tyres to your existing wheels, the smaller rolling diameter will play havoc with your car's systems.
A smaller overall diameter of wheel and tyre will rotate faster than a standard one, so your car's odometer will click over faster, and show a higher mileage than you have actually travelled. It will also affect the reading of your car's speedometer, as you are likely to be travelling at a different speed to the one being shown. It will probably be a lower speed, but it's still inaccurate. 
Partnership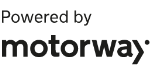 Need to sell your car?
Find your best offer from over 5,000+ dealers. It's that easy.
• All-season tyre test 2017/2018
Your car's gearing will also be affected, while modern safety electronics rely on a car's tyre diameter to function correctly in the event of an incident. Your car will also likely sit a little lower, so if it already has trouble scraping over speed bumps, this will only be made worse.
As well as adding a sportier look to a car, low-profile tyres can boost a car's handling. The shorter sidewalls aren't as flexible as the taller ones on high profile tyres, which means the car doesn't roll and bounce about quite as much. This boosts grip and the effectiveness of the suspension at keeping the car stable in corners.
This can have beneficial effects for a car's performance, as extra grip means a car can go around a corner faster, but the downside to this will be a firmer ride over bumps. The tyre sidewall acts as part of the car's suspension, and if there is less sidewall and a smaller cushion of air to absorb bumps, these shocks will transmit through the wheels and suspension to the cabin, making for a more uncomfortable ride for passengers. In recent years, some car makers have designed their cars to be more comfortable on large diameter wheels as standard, although that is unlikely to be the case when fitting aftermarket wheels and tyres to a vehicle.
The question is whether you can put up with this extra firmness for the added grip and roadholding the tyres will provide. If you're increasing tyre size by an inch, it might not have a big effect on soaking up bumps, but if you're increasing size by two or three inches, then you're likely to notice the difference. And if the bumps are severe - especially crashing into potholes - then there's a greater risk of either the tyre or wheel suffering damage as a result, as a low-profile tyre doesn't have as much ability to absorb the impact as a standard tyre.
You'll need to be more careful when parking too because low profile tyres put your alloy wheels close to the road and its various low level obstacles. Small kerbs and ridges that normal tyres would happily bump over can come into contact with your alloys and cause 'kerbing' damage when you have less protective rubber as a safety net.
Another negative of low-profile tyres is their higher cost. While the lower profile means there's less rubber to start with, these tyres tend to be designed with performance in mind, so they usually have more advanced construction so that they perform at their best. Of course, low-profile tyres need larger diameter wheels, and simply buying a set of these to fit them on will add to the expense.
Fitting low profile tyres: summary
For
• Improved looks
• Better handling
• More grip for extra performance
Against
• Reduced ride quality
• Increased cost
• Less protection for wheels and suspension
What do you think of low profile tyres? Do the pros outweigh the cons? Let us know in the comments section below...