Government rejects calls for car wash licencing scheme
Ministers have refused to hold a trial licensing scheme for hand car washes, instead opting for a voluntary pilot approach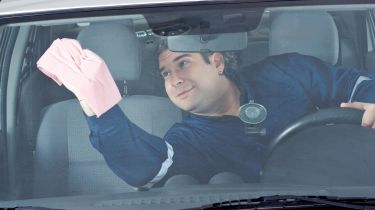 The Government has rejected calls to combat modern-day slavery and environmental concerns with a car wash licencing scheme, drawing criticism from industry bodies.
The Environmental Audi Committee (EAC) submitted a report calling for ministers to implement a mandatory trial licensing scheme to tackle "modern slavery in plain sight" and non-compliance with environmental regulations, such as chemical runoff. The Government has instead decided to offer a voluntary and industry-led approach.
As part of this approach, the Environment Agency will write to supermarkets to remind them their car parks must have appropriate drainage to tackle pollution from car wash chemicals. Pollution prevention guidance on the Government's environmental guidance website will be updated.
But the Environmental Audi Committee says this will not be enough to deal with what it described in its report as "widespread and alarming breaches" of employment and environmental laws at hand car washes.
Concerns were originally raised over car wash bosses not paying staff the minimum wage, workers at risk of trench foot and chemical burns, and untreated wash water having "toxic effects" on plant and animal life.
Many workers at car washes in the UK are said to be working in conditions that amount to modern day slavery, being lured from abroad to work before being stripped of their passports. Foreign workers in UK car hand washes are reportedly often held in debt bondage, being forced to pay off their travel feels, which can be grossly inflated by gangmasters.
Labour MP Mary Creagh, chair of the EAC, said she was "pleased" the Government had adopted two of the select committee's recommendations, but said it was "disappointing that ministers have opted for a pilot approach that is voluntary".
Creagh called on the Government to send a "strong message" to car wash operators over the exploitation of car wash workers.
Car Wash Association chairman Brian Madderson criticised the Government for not properly dealing with rogue hand car washes. He quoted police estimates saying there are up to 20,000 rogue hand car washes operating in the UK and claimed the Government "has produced no evidence to show that it is collecting much tax at all from rogue hand car washes".
He continued: ""We are being given words of reassurance, but what we need is firm action against the modern slave owners who evade taxes and exploit vulnerable workers."
Read our top tips for taking care of your car…