Jaguar Land Rover trademarks Road Rover name
Could JLR be plotting a revolutionary new Land Rover model? Maybe, a new trademark suggests...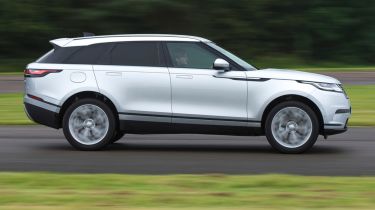 Jaguar Land Rover has applied to trademark a curious and peculiar new name – Road Rover.
Officially, little can be said about the group's interest in the new badge. Carmakers trademark potential names all the time, either for the purposes of actual new models or to keep certain names out of the hands of competitors and trademark squatters. For instance, JLR has a fleet of potential Jaguar names currently trademarked, including J-Type, J-Pace and C-Pace.
However, the Road Rover name flings open the imagination quite like no other. At the very least it could just be an internal slogan or reserved for a future PR stunt. At most, it suggests that JLR is considering a revolutionary new car, distinctly shaped as a separate entity and sitting lower than the brand's traditional SUVs.
We've nothing to go on at this stage, though the idea of a Road Rover wouldn't be entirely new. The name has in fact been used internally before, on a series of prototype vehicles developed by the brand in the mid 1950s. Intended as a car to boast at least some of the off-road prowess of the Series 1 Land Rover, the project was very much focussed on on-road manners instead, but failed to result in a production model.
Similar, modern day interpretations of this format would be Audi's Allroad line-up, Volvo's Cross Country vehicles, and the Mercedes E-Class All-Terrain. However, it's impossible to say at this juncture if Land Rover has any serious interest in entering this market space. At the moment, the closest thing occupying this space across the Jaguar Land Rover line-up is the new, all-electric Jaguar I-Pace.
We don't know if Road Rover itself is a direct spin on Land Rover either. It could in fact be spun off from Range Rover, which would result in a far more upmarket and luxurious vehicle.
Read our review of the new Jaguar I-Pace...