'Topsy-turvy sales could falsely hurt the economy'
The implementation of WLTP emissions standards could cause a car sales slump, believes Steve Fowler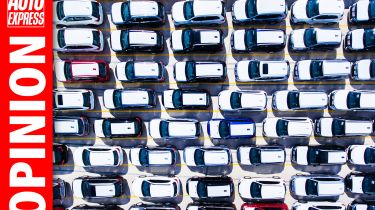 As of 1 September – just a few weeks away – new cars will have to be homologated to new WLTP emissions standards: what's known as Euro 6c. And while the thinking behind these emissions regulations is right, the implementation, as usual, leaves quite a lot to be desired.
By having such a cut-off point – with only a small amount of wriggle room – we're likely to see unusually high August 'sales' as dealers rush to register cars that don't meet the new standards.
• New car sales stabilise in July as diesel plummets
But that's not the end of it. In September sales are expected to dip massively as car makers are still struggling with the workload to ensure all cars are tested to the new standards, meaning extensive delivery delays for some models.
I don't have a crystal ball, but who better to help me do a bit of future gazing than the man responsible for more UK car sales than anyone else, Ford UK managing director Andy Barrett?
"The consensus is that the August market could be 200,000 cars," Barrett told me. To put that into context, 76,433 new cars were registered last August.
Barrett also revealed that, unlike many, Ford has got its act together and planned ahead, so it will have a fairly normal couple of months. But that does mean in a crazy, distorted August Ford's market share could take an unusual dip.
• New WLTP and RDE tests could be unrealistic
However, the sudden slowdown in September could be more problematic if it's read wrongly. "It'll be a really interesting dynamic for the commentators to try and pick up," said Barrett.
Without understanding what's happening and the real reason for a lack of September registrations, doom mongers might seize on what looks like a big market slowdown. That could seriously affect an economy that's already looking a little fragile.
Take a look at the best-selling cars in the UK in 2018…