10 reasons to buy a hybrid car today (sponsored)
Hybrids are all the rage as drivers look to minimise their costs. But there's more to a petrol-electric vehicle than low fuel bills
Hybrid sales are booming, and now that buyers can choose cars like the Kia Niro, it's no surprise. The combination of a conventional petrol or diesel engine and an electric motor started off as a niche around 20 years ago. But as manufacturers like Kia have brought the technology into the mainstream, more buyers are now reaping the rewards. They're not only enjoying the fuel and tax savings the powertrains bring, but also seeing that these hi-tech vehicles demand few compromises.
So here we spell out the 10 reasons to buy a hybrid car today
1. How does a hybrid car work?
A hybrid is essentially one car with two engines: a conventional petrol or diesel power plant, along with an electric motor. In the most common parallel hybrids – cars like the Kia Niro – the motor takes care of low-speed acceleration (around town, for example), before the engine kicks in as the speed increases. They can assist the engine at higher speeds too. But because the motor runs off lithium-ion batteries with a small capacity, this electric range is limited. Plug-in hybrids like the Kia Niro Plug-In Hybrid can run for longer in zero-emissions electric mode because the batteries powering their motors are larger and, as the name suggests, can be hooked up to a power socket before you start your journey, or charged on the go via the engine.
2. Reduced hybrid company car tax
Running costs are a huge factor in any buying decision, and a hybrid makes particular sense if you're a business user. It doesn't take long with a calculator to work out that a model like the Kia Niro will bring reduced hybrid company car tax when compared with a regular petrol or diesel car. This is because of its low CO2 emissions. The Kia Niro emits 88g/km of CO2, meaning a Benefit-in-Kind rate of 19 percent, while the Kia Niro Plug-In Hybrid makes even more sense for user choosers with its 29g/km emissions and 13 per cent BiK. Meanwhile, the upcoming Kia Niro Electric, with its zero tailpipe emissions, also has a 13 per cent BiK rate. No matter which version you go for, your fleet manager will be delighted.
3. Hybrids offer great fuel economy
You don't have to be a business user for a petrol-electric car like the Kia Niro to add up, though. Everyday private drivers will be laughing all the way to the bank as well because hybrids offer great fuel economy. With its 104bhp 1.6-litre petrol engine working alongside an electric motor running off a 1.56kWh battery pack, the Kia Niro is impressively efficient, claiming up to 74.3mpg. The Kia Niro Plug-In Hybrid takes things even further by combining the same engine with an 8.9kWh battery. As long as you can charge it up before your journey, this car promises 217mpg. And you won't have to worry about gallons at all when the Kia Niro Electric arrives in showrooms in 2019; instead the focus will be on the impressive range of up to 298 miles from a full charge of the 64kWh lithium-polymer battery pack.
4. Reduced local air pollution
There's lots of noise from politicians at the moment about air quality and what we're breathing in our towns and cities. But you can do your bit to bring reduced local air pollution by investing in a petrol-electric car. Whether you go for the Kia Niro or the Kia Niro Plug-In Hybrid, you can rest assured that the engine won't belch out any nasty fumes when you're sitting in traffic; the Intelligent Stop & Go system cuts the power as soon as you come to a halt. And the satellite navigation built into the central touchscreen in all models not only features seven years of free map updates, but also includes TomTom traffic to suggest alternative routes around jams in the first place.
5. Silent low-speed driving
Low-speed driving around town isn't just clean in a hybrid; it's also silent. Depending on the charge remaining, the Kia Niro and Kia Niro Plug-In Hybrid pull away using their electric motors – the cars offer impressive zero-emissions, silent, electric-only running, with a range of up to 36 miles in the plug-in model. This means drivers get a glimpse of an electric car future, especially in the Kia Niro Plug-In Hybrid, because you can feel the instant acceleration of battery power before the petrol engine kicks in.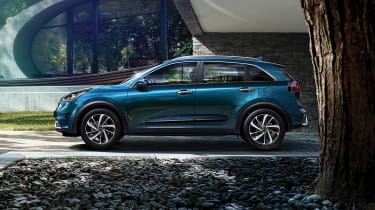 6. And they're a great route to EVs
For this reason, plug-in hybrids have been really critical in the fast rate of development of pure-electric cars in the past few years. And they're a great route to EVs for buyers, too. Once you've got your head around the idea of charging your Kia Niro Plug-In Hybrid frequently – which you'll need to do to maximise its fuel efficiency – and started hunting for public charge points close to your workplace, you're already in the mindset of an EV owner. So it's a small step from there to running a Kia Niro Electric.
7. Can I buy a hybrid SUV?
A wide range of bodystyles are available for drivers wanting to buy a hybrid. The Kia Niro and Kia Niro Plug-In Hybrid are SUVs, so you don't have to compromise on style or rugged appeal in the pursuit of low running costs. But other options from Kia include a classy family saloon and estate in the shape of the Kia Optima Plug-In Hybrid and Kia Optima Sportswagon Plug-In Hybrid. Buyers will soon be able to get their hands on an even more practical SUV when the new Kia Sportage mild hybrid arrives in dealers very soon.
8. What are plug-in hybrids?
Plug-in hybrids are a step on from the original parallel hybrids, and use larger battery packs. In the Kia Niro Plug-In Hybrid, for example, there's an 8.9kWh battery pack compared with the 1.56kWh output in the Kia Niro. The result of this is a significantly longer electric-only range; the Kia Niro Plug-In Hybrid can travel up to 36 miles before the engine kicks in. Plug-in hybrids achieve this by allowing owners to hook up to a power supply at home overnight or at a public power point in a car park when the vehicle isn't in use, as well as charging on the go as regular hybrids do.
9. What are mild hybrids?
A mild hybrid is different to the Kia Niro and Kia Niro Plug-In Hybrid because its electric motor is unable to power the car on its own; rather it can assist the petrol or diesel engine. Mild hybrids offer varying levels of assistance and work in different ways. Some feature a starter-generator system and a small battery pack that assists the engine under hard acceleration. Other set-ups are more radical, with a 48V electrical system again providing power to a starter-generator, but this time allowing the engine to be turned off when the car is coasting. It fires again when the driver presses the throttle.
10. They drive like normal cars (and you can drive one efficiently)
Some manufacturers initially went in for wild styling and crazy interior displays with early hybrids, but it quickly became clear that many buyers wanted their cars to be as conventional as possible. So that's exactly what the latest generation of petrol-electric vehicles is, plus they drive like normal cars (and you can drive one efficiently). The Kia Niro and Kia Niro Plug-In Hybrid have smooth automatic gearboxes and easy-to-use infotainment touchscreens, including Apple CarPlay and Android Auto, so all your crucial driving data is at your fingertips. Indeed, many drivers find it fun to challenge themselves to eclipse the fuel economy of their previous journey every time, because they're so impressed by the figures their car returns.