New UK electric car battery firm Hyperbat established
First UK battery manufacturing company established in Coventry creating 90 new jobs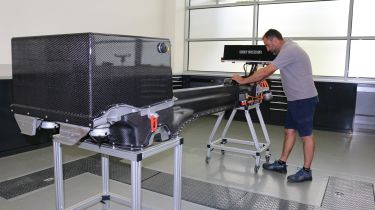 Hyperbat Limited, a new UK-based battery-manufacturing company, will begin designing and building batteries for electric vehicles early next year. 
The new company has been established through a joint venture between Williams Advanced Engineering and Unipart, the automotive logistics and parts supplier. Aston Martin's upcoming all-electric Rapide E saloon, of which only 155 examples will be produced, will be the first customer of the new company.
Hyperbat will be based in a new multi-million pound, state-of-the-art facility in Coventry where 90 new manufacturing jobs will be created. 
Tony Booth, senior commercial manager at Williams Advance Engineering, told Auto Express: "We're the first independent manufacturing facility of high performance batteries. All automotive brands are carrying out an EV strategy; in the UK we produce 2.7 million engines per year, of which 1.7 million are retained in the UK. 
"A lot of that, in the future, will move to electrification and this is the first UK facility to produce batteries for the automotive industry. We've started something very new." 
The site 48,000sq ft site in Coventry has the capacity to produce 10,000 lithium-ion batteries per year. However, bosses have said that if demand exceeds that ceiling they will look at additional sites in the future.
"We're coming together to launch a new factory in Coventry which will bring new jobs to the area and build on what we believe is an exciting new opportunity driven by demand and environmental needs," added Booth. 
Williams Advanced engineering has been developing battery technology for 10 years and is the sole supplier of batteries for the Formula E championship.  
In other electric car news, Theresa May has earmarked £106 million for battery tech and green vehicles. Read the full story here.
Get the latest electric car news, reviews and analysis on DrivingElectric.com