Aston Martin Rapide S (2013-2018) review
The Aston Martin Rapide S mixes sports car elegance with hatchback practicality, but it comes at a price
The Aston Martin Rapide S takes the essence of Aston Martin's grand touring coupes and adds a slice of practicality to the mix. It uses the same platform as the DB9, but it has been stretched by 250mm to accommodate an extra pair of doors, while the extended roofline tapers back into a hatchback tailgate. There's space in the back for two adults – barely – and a snarling 6.0-litre V12 underneath the bonnet.
Before it was the Rapide S, it was just called the Aston Martin Rapide and only came with 470bhp but with the introduction of the suffixed S also came a hike in power to 550bhp (or 552bhp in the updated model introduced late in 2014). In the shift from Rapide to Rapide S there was also a slight styling update, too, including a bolder front grille and a slightly larger rear spoiler. The refreshed model in late 2014 came with a new optional Diavalo Red paint colour and some fresh alloy wheel designs.
Engines, performance and drive
The Aston Martin Rapide S lives up to its name, and goes as fast as it looks. Its 6.0-litre V12 engine has been boosted to 550bhp (552bhp for refreshed cars after late-2014) in Rapide S guise, which is enough to power the RapideS from 0-62mph in 4.9 seconds and to a top speed of 190mph.
Go for one of the later models fitted with the eight-speed gearbox and slightly more powerful engine and those figures improve to 203mph and 4.4 seconds. The Touchtronic six-speed automatic gearbox isn't the last word in sophistication, and it's neither as fast nor involving as the latest twin-clutch systems, but the eight-speed that was later introduced is much better.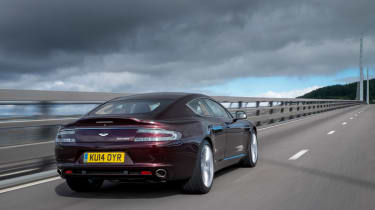 Away from gridlocked streets, the Rapide S feels surprisingly nimble for such a big machine, but the firm suspension takes the edge off comfort and results in lots of tyre noise over rough tarmac. Cars fitted with the eight-speed auto have different settings for the adaptive dampers so feel a bit softer and more comfortable in the 'Normal' setting.
MPG, CO2 and Running Costs
Not a Rapide S strong point, it's fair to say. Drive the Aston Martin as its maker intended, and you can expect to see single-figure fuel consumption from the thirsty V12 engine. On longer journeys, gentle driving will yield returns of up to 20mpg if you're careful, though for models with the eight-speed auto Aston says you can hope for 31mpg on the motorway.
Expect steep running costs as CO2 emissions of 355g/km (300g/km for updated cars) guarantee hefty bills for road tax, maintenance won't be cheap and depreciation is likely to be extremely costly. In short, if you have to ask how much the Rapide S will cost to run, you probably can't afford one.
Interior, design and technology
Nothing stops traffic like an Aston Martin Rapide S. The trademark nose is lifted from the DB9 coupe, but the Rapide S's long body means it won't be mistaken for anything else. Open those rear doors, and it looks even more distinctive as they hinge upwards and outwards to avoid unintended scrapes with the kerb.
Inside it's the same story, with traditional Aston Martin features, including distinctive instruments, a huge centre console and lashings of wood and leather trim. If we had a criticism it would be that the infotainment is really difficult to operate as it's displayed on a tiny monochrome screen, with the larger colour screen reserved for the sat-nav. Cars after the refresh in late 2014 came with some new interior options like dual tone leathers for the seats.
Practicality, comfort and boot space
By mainstream hatchback standards, rear space is tight and the 317-litre boot is pretty modest. But for a car with this much style, performance and brand appeal, the Rapide is on another level. Rivals are few and far between, although the cheaper Porsche Panamera provides limousine levels of rear legroom.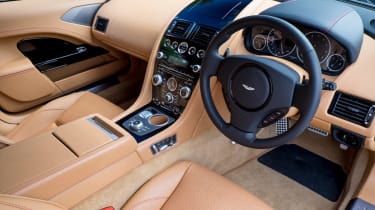 The back seats of the Rapide have more in common with a supermini, but the Aston compares well with most 2+2 coupes, and the exquisitely tailored rear seats fold forwards to improve luggage space if you go mad in the Harrods sale. Options include rear entertainment screens and a six-piece leather luggage set.
Unsurprisingly the experts at Euro NCAP haven't driven a Rapide into a wall, but you get the usual array of safety kit, including front, side and curtain airbags.
Traction control and electronic stability control also come as standard. Aston Martin's V12 engine is tried and tested so should pose few reliability worries, although there are the occasional issues with poor build quality on some of Aston's cars. Revisions for the Rapide S introduced a more up to date sat-nav system, which was a major bugbear of more recent cars.